National Assembly of the Republic of Serbia / Activities / Activity details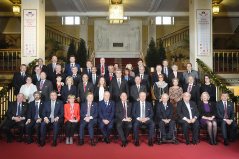 9 April 2018 The participants of the Conference of Parliament Speakers of EU Member States and candidate countries
Tuesday, 9 April 2019
Gojkovic at Conference of Parliament Speakers of EU Members and Candidates
The Speaker of the National Assembly of the Republic of Serbia Maja Gojkovic took part in the two-day Conference of Parliament Speakers of EU Member States in Vienna, attended by the and parliament speakers of EU candidate countries.
---
"The fact that the European Union and its neighbours, meaning countries like Serbia, trying to join the EU, was the number one topic of the conference is very important for us", said Gojkovic.
The Serbian Assembly Speaker said that the discussions were very fruitful, especially in view of the fact that the parliament speakers urged to continue with the policy of support for EU candidate countries.

"We are especially grateful to Austria, the host, because the President of the Austrian National Council, Wolfgang Sobotka, in our talks, sent the important message that Serbia belongs in the European Union", said Gojkovic.
In the conclusions of the Conference, the parliament speakers of the EU member states stated that they recognize the need to keep the enlargement and relations with the neighbours on the agenda as well as a credible European perspective for the Western Balkans despite the EU internal challenges and agreed that stability in the Western Balkans in vital for the stability of the entire European continent.
The EU parliament speakers reaffirmed the Western Balkans' European perspective and commitment to EU enlargement because it is an investment into peace, democracy and security and appealed to, though they recognize the progress achieved by the Western Balkan states in the past few years, continue with the reforms.
On the margins of the Conference, Gojkovic had the opportunity to talk about strengthening parliamentary cooperation with a number of parliament speakers, among them the parliament speaker of Austria, Slovenia, Montenegro, Bosnia and Herzegovina, Cyprus, Greece and the French National Assembly Vice President Carole Bureau-Bonnard in charge of international activity.

Day two of the Conference, attended by over 30 parliament speakers of EU member states and candidate countries, was opened by the President of the German Bundestag Wolfgang Schäuble.


---
---
thursday, 11 august
No announcements for selected date