National Assembly of the Republic of Serbia / Activities / Activity details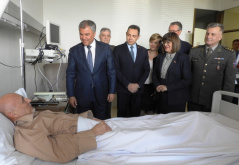 3 June 2019 Gojkovic and Volodin visit Krasnoshchekov
Monday, 3 June 2019
Gojkovic and Volodin Visit Krasnoshchekov
The Speaker of the National Assembly of the Republic of Serbia Maja Gojkovic and the Speaker of the State Duma of the Russian Federation Vyacheslav Volodin visited Russian national and member of UNMIK Mikhail Krasnoshchekov, injured in the action of NJSO special forces in the north of Kosovo-Metohija and transferred to the Military Medical Academy from Kosovska Mitrovica Clinical Hospital Centre for further treatment.
---
Gojkovic and Volodin talked to the injured Russian national who thanked them for the visit and informed about the developments in Kosovo-Metohija at the time of his injury.

In the visit, the speakers of the National Assembly and the Russian State Duma were accompanied by Minister of Defence Aleksandar Vulin, head of the Military Medical Academy Colonel Miroslav Vukosavljevic and Russian Ambassador in Serbia Alexander Chepurin.
---
---
sunday, 26 june
No announcements for selected date