National Assembly of the Republic of Serbia / Activities / Activity details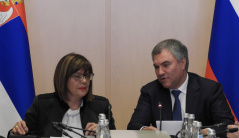 23 October 2018 National Assembly Speaker Maja Gojkovic and the Chairman of the Russian State Duma Vyacheslav Volodin
Wednesday, 24 October 2018
Gojkovic and Volodin Open Russia-Serbia Parliamentary Commission Session
The Speaker of the National Assembly of the Republic of Serbia Maja Gojkovic and the Chairman of the Russian State Duma Vyacheslav Volodin opened the third session of the Joint Parliamentary Cooperation Commission in Moscow today.
---
Gojkovic and Volodin said that the work of the Cooperation Commission of the National Assembly of the Republic of Serbia and the State Duma of the Federal Assembly of the Russian Federation has significantly advanced both interparliamentary and overall bilateral relations.
Gojkovic and Volodin stressed that it is essential to ensure that the decisions made at the executive level can be implemented at the legislative to allow for a more dynamic and intensive development of relations. The two heads of parliament praised the development of economic cooperation and trade, digital economy and cooperation in the spheres of education and culture.
At its third meeting, the Parliamentary Cooperation Commission is discussing interparliamentary cooperation as a factor of strengthening bilateral relations, parliamentary support of trade, economic and cultural cooperation, the national practice of legislative regulation of digital economy and the situation in Europe and the Balkans.
The session is chaired by the Deputy Speaker of the National Assembly of the Republic of Serbia Djordje Milicevic and the First Deputy Chairman of the State Duma, Commission deputy co-chair, Ivan Ivanoviсh Melnikov.
These important topics of mutual interest for both parliaments and states are discussed by National Assembly members Milovan Drecun, Prof. Dr Zarko Obradovic, Dr Aleksandra Tomic, Snezana B. Petrovic, Mirko Krlic, Dragomir Karic and Jasmina Obradovic, and on the Russian side Sergey Aleksandrovich Zhigarev, Vladimir Vladimirovich Bortko, Mikhail Vasilyevich Yemelyanov, Konstantin Fyodorovich Zatulin, Dmitry Georgievich Novikov, Viktor Petrovich Vodolatsky, Viktor Mikhailovich Zavarzin, Sergei Vladimirovich Zheleznyak, Anatoly Nikolaevich Greshnevikov and Svetlana Borisovna Savchenko.
The National Assembly - State Duma Cooperation Commission was established under the auspices of the Cooperation Agreement and Agreement on the Establishment of the Commission. The Commission had its first session in Moscow on 17 December 2015 and the second in Belgrade on 5 June 2017.


---
---
monday, 23 may
No announcements for selected date