National Assembly of the Republic of Serbia / Activities / Activity details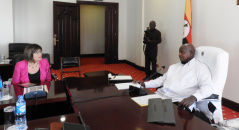 22 February 2019 National Assembly Speaker Maja Gojkovic and Ugandan President Yoweri Museveni
Friday, 22 February 2019
Gojkovic and Ugandan President, Support for Serbia's Territorial Integrity and Sovereignty
The Speaker of the National Assembly of the Republic of Serbia Maja Gojkovic, in official visit to Uganda, met today with Ugandan President Yoweri Museveni.
---
Gojkovic said that the two countries share traditionally good bilateral relations, historic ties and friendship with a long and rich history dating back to the times of Uganda's independence and common activities in the Non-Aligned Movement, stressing how important it is to continue to nurture the policy of friendship the two countries have been building for 56 years.
Gojkovic thanked President Museveni for Uganda not recognizing the unilaterally declared independence of Kosovo-Metohija and respecting Serbia's territorial integrity and sovereignty and international law.

Gojkovic thanked Uganda for never voting contrary to Serbia's interests in international forums and being on Serbia's side during so-called "Kosovo's" UNESCO and INTERPOL bids.
Gojkovic went on to brief the President on the situation in Kosovo-Metohija, saying that Pristina has imposed a 100% customs tax on goods from central Serbia and Bosnia and Herzegovina and established the so-called Kosovo Army, which can destabilize the entire region, and emphasizing the important it is to continue the debate on Kosovo-Metohija in the UNSC.
Ugandan President Yoweri Museveni said that Uganda respects international law and cannot recognize the unilaterally declared independence of Kosovo-Metohija and such injustice.
Museveni said he was pleased by the Serbian Assembly Speaker's visit to Uganda hoping that Serbian President Aleksandar Vucic would visit too. Museveni spoke about the relations between former Yugoslavia and Uganda in the Non-Aligned Movement, mentioning how many of its companies took part in the construction of roads and factories in Uganda and that several Serbian companies operate in Uganda today.
The Ugandan President said that it is important to revive this cooperation and asked Serbian companies to come to Uganda and cooperate with the companies in the country.
Gojkovic said that Serbia is ready to develop overall cooperation with Uganda, economic, agricultural, defence industry, tourism and education.
Gojkovic said that her visit and the signing of the Memorandum of Understanding open a new chapter in the two countries' interparliamentary cooperation which has been raised to a new, institutional level. Gojkovic said that the Serbian Assembly is the only European parliament to have a written agreement with the Pan-African Parliament which is one more indicator of Serbia's commitment to join efforts with African countries in any number of projects and areas.


---
---
monday, 23 may
No announcements for selected date