National Assembly of the Republic of Serbia / Activities / Activity details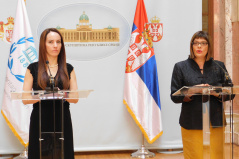 24 May 2018 National Assembly Speaker Maja Gojkovic and the President of the Inter-Parliamentary Union Gabriela Cuevas Barron
Thursday, 24 May 2018
Gojkovic and IPU President
The Speaker of the National Assembly of the Republic of Serbia Maja Gojkovic met today with the President of the Inter-Parliamentary Union Gabriela Cuevas Barron stressing on the occasion that the visit is important for the continuity of the excellent cooperation between the Serbian Assembly and the Inter-Parliamentary Union.
---
Gojkovic highlighted the importance of the IPU saying that Serbia is proud of its 127-year long history of IPU membership and the fact that it has been with the organization from its beginnings, joining it mere two years after it was founded.
Gojkovic thanked the IPU for helping organize the regional seminar on the Sustainable Development Goals for the Parliaments of Central and Eastern Europe and Central Asia, co-organized by the IPU and UNDP under the auspices of the UN 2030 agenda, showing how much it cares about this topic and supports the Serbian Assembly's work on it.
Gojkovic and the IPU President who is also a Mexican Senator spoke about the two countries bilateral relations stressing that they have a long history of good and friendly relations and thanked Mexico for its support of Serbia's territorial integrity and sovereignty and its stance on so-called Kosovo's joining international organizations.
Serbia and Mexico have a long and firm friendship and will in the coming period continue its interparliamentary cooperation, said Senator Cuevas Barron and invited the Speaker of the Serbian National Assembly to visit Mexico.
The IPU President said she was happy to be visiting Serbia which is committed to its work in the IPU and its cooperation with this organization could serve as an excellent example for other countries.
Gojkovic and the IPU President spoke about possibilities to modernize the work of the Inter-Parliamentary Union so as to promote it and interparliamentary cooperation.

Click
here
to watch the press conference that followed the meeting.
---
---
friday, 1 july
11.00 - the National Assembly Speaker addresses the conference on the Position of Serbia's in the Euro-Atlantic Community (National Assembly Building, 14 Kralja Milana Street, Grand Hall)