National Assembly of the Republic of Serbia / Activities / Activity details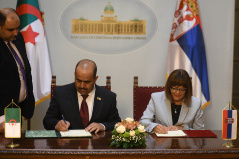 12 October 2019 The signing of the Memorandum of Cooperation between the parliaments of Serbia and Algeria
Saturday, 12 October 2019
Gojkovic and Chenine Sign Memorandum of Cooperation
The Speaker of the National Assembly of the Republic of Serbia Maja Gojkovic met today with the Speaker of National People's Assembly of the People's Democratic Republic of Algeria Slimane Chenine and after the meeting the two speakers of parliament signed a Memorandum of Cooperation at the National Assembly House, raising the parliamentary cooperation to a higher institutional level.
---
Gojkovic said she expected the Memorandum of Cooperation to intensify parliamentary relations and encourage the friendship groups, working bodies and parliamentary delegations to cooperate more in international parliamentary organizations.
Mentioning the historically good relations between the two countries, the Algerian Parliament Speaker pledged to work to further strengthening the ties which today's signing of the Memorandum of Cooperation will undoubtedly promote.
Gojkovic and Chenine agreed that the political relations dating back to the Non-Aligned Movement, are traditionally good and ever growing, and went on to discuss current issue of importance for the two countries.
Gojkovic thanked Algeria for respecting Serbia's territorial integrity and sovereignty and UNSC Resolution 1244 concerning the issue of Kosovo-Metohija, and with it international law, while Chenine said that Algeria supports Serbia's territorial integrity and sovereignty


---
Photo gallery
---
---
thursday, 1 december
10.30 - the National Assembly Speaker meets with a delegation of the Turkish Grand National Assembly Committee on Foreign Affairs (National Assembly House, 13 Nikola Pasic Square, hall 1)

10.30 - press conference of the GREEN – LEFT CLUB, DON'T LET BELGRADE D(R)OWN, WE HAVE TO Parliamentary Group (National Assembly House, 13 Nikola Pasic Square, Central Hall)

11.10 - the members of the Foreign Affairs Committee meet with the delegation of the Turkish Grand National Assembly Committee on Foreign Affairs (National Assembly House, 13 Nikola Pasic Square, hall 2)

12.00 - sitting of the Culture and Information Committee (National Assembly House, 13 Nikola Pasic Square, hall 4)

13.00 - sitting of the Committee on Administrative, Budgetary, Mandate and Immunity Issues (National Assembly House, 13 Nikola Pasic Square, hall 3)

13.00 - the National Assembly Speaker meets with the Swedish Ambassador to Serbia (National Assembly House, 13 Nikola Pasic Square, hall 1)

14.00 - sitting of the Defence and Internal Affairs Committee (National Assembly House, 13 Nikola Pasic Square, hall 3)