National Assembly of the Republic of Serbia / Activities / Activity details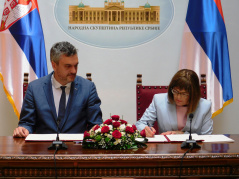 22 July 2019 National Assembly Speaker Maja Gojkovic and the President of the Serbian Chamber of Commerce Marko Cadez
Monday, 22 July 2019
Gojkovic and Cadez Sign National Assembly-Serbian Chamber of Commerce Cooperation Agreement
The Speaker of the National Assembly of the Republic of Serbia Maja Gojkovic and the President of the Serbian Chamber of Commerce Marko Cadez signed a Cooperation Agreement at the Serbian Assembly today with the aim of fostering cooperation between the economy and the parliament when it comes to passing laws of importance for Serbia's economy and promoting Serbian economy and investment opportunities globally.
---
Gojkovic said that the signing of the Cooperation Agreement institutionalizes the future cooperation between the National Assembly and the Serbian Chamber of Commerce and is a huge step forward in strengthening the National Assembly's cooperation with the economy in terms of passing relevant legislation and creating a better investment climate.

Gojkovic said that the Cooperation Agreement would enable the Serbian Chamber of Commerce to take part in the committees' legislative work and organization of public hearings on relevant laws before they are submitted for plenary debate in the Assembly.
Gojkovic said that cooperation in terms of parliamentary diplomacy and official bilateral meetings, as well as in multilateral parliamentary events, on promoting Serbia's economic potential and investment opportunities is vital.
Gojkovic added that the National Assembly and the Serbian Chamber of Commerce would also be cooperating during the coming 141st Assembly of the Inter-Parliamentary Union in Belgrade, 13-17 October, which is the first important summit organized in Serbia in decades. Since delegations from over 150 countries are expected to attend, this would be a good opportunity to present Serbia's economic potential.
By signing the Cooperation Agreement, the Serbian Assembly has shown that it respects the business sector and the efforts of the Chamber of Commerce to cooperate with the MPs on improving the country's legislation and investment opportunities.
The President of the Serbian Chamber of Commerce Marko Cadez thanked the Serbian Assembly for its keenness to work together and institutionalize the cooperation with the Chamber by signing a Cooperation Agreement.
"This gives the economy the opportunity to voice its arguments to the MPs discussing economy-related legislation. It gives the Serbian Chamber of Commerce the opportunity to show how a piece of legislation is applied on day-to-day basis in a business environment and point out any problems", said Cadez, adding that the National Assembly has shown that it wants to set up the legislative framework the people and the economy need, one that ensures economic dynamics.
Cadez said that, in addition to cooperation with the committees and in public hearings, international cooperation is essential, and the Chamber of Commerce wishes to contribute to the promotion of Serbian economy through parliamentary diplomacy, the activities of the Serbian Assembly Speaker's, MPs and parliamentary delegations, to make them "the real ambassadors of Serbian economy".
"It is important to work together on international cooperation" said Cadez, adding that it is vital to present what Serbia and its companies exactly have to offer.


---
---
thursday, 30 june
10.00 - the National Assembly Speaker delivers keynote address at the CSR Serbia 2022 conference (National Assembly House, 13 Nikola Pasic Square, Small Hall)

11.00 - the National Assembly Speaker meets with the EU Special Representative for the Belgrade-Pristina Dialogue (National Assembly House, 13 Nikola Pasic Square, hall 1)

15.00 - sitting of the Foreign Affairs Committee (National Assembly House, 13 Nikola Pasic Square, hall 2)

20.00 - the National Assembly Speaker speaks at the closing ceremony of the international competition Mathematical Grammar School Cup (National Assembly House, 13 Nikola Pasic Square, Small Hall)