National Assembly of the Republic of Serbia / Activities / Activity details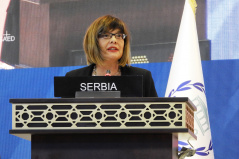 7 April 2019 National Assembly Speaker Maja Gojkovic at the 140th Assembly of the Inter-Parliamentary Union
Sunday, 7 April 2019
Gojkovic Speaks at IPU General Debate
The Speaker of the National Assembly of the Republic of Serbia Maja Gojkovic, taking part in the 140th Assembly of the Inter-Parliamentary Union in Doha, said that there can be no social modernization or development without education and the very essence of education is that no one gets left behind.
---
"Through education and by raising awareness on the true interests of citizens and societies, we create a sturdy groundwork for cooperation and development, peace and stability as core values. To that end, we are committed to reform education to make sure that it follows technological development", said Gojkovic at the general debate on "Parliaments as platforms to enhance education for peace, security and the rule of law".
Gojkovic added that, as an EU candidate state, Serbia is working on harmonizing its legislation with the EU acquis and has closed the chapter on education which proves its dedication to meeting the highest standards in the field.
"The Serbian Assembly plays a vital role in the process and is committed to a continuous advancement of education policy. To that end, it recently passed a set of laws on pre-school and primary education and student standard", said Gojkovic.
Gojkovic said that the Serbian Assembly had passed a Law on Dual Education to promote closer ties between education and the economy and labour market, becoming the first in the region to have a law of this kind, set to the highest European standards.
The Serbian Assembly Speaker said that the future of the society as a whole depends on the quality of education and on how much we invest into it, which makes the field a priority of the national budget, passed by the National Assembly and evidenced in the fact that the Serbian public expenditure on education is higher than the regional average.
Gojkovic stressed that a truly modern and effective education system has to be grounded in the universal principles of peace and aimed toward strengthening the rule of law.
Gojkovic went on to say that education could lead to more inclusive and just societies, that is has to be accessible and the state of Serbia guarantees the accessibility of education to all of its citizens, adding that free primary education is accessible to all the citizens, including members of national minorities and vulnerable categories, and Serbia ranks 39th on the literacy rate list.
Gojkovic said that multilingual education is vital for building peace and understanding in a multi-ethnic society, and reminded the attending that eight national minorities in Serbia are educated in their mother tongue.


---
---
tuesday, 18 january
14.00 - the National Assembly Speaker meets with OSCE Parliamentary Assembly Secretary General (National Assembly House, 13 Nikola Pasic Square, diplomatic salon of Prince Pavle)