National Assembly of the Republic of Serbia / Activities / Activity details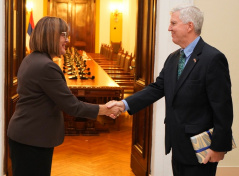 26 September 2019 The National Assembly Speaker and the US Ambassador to Serbia
Thursday, 26 September 2019
Gojkovic Receives US Ambassador in Farewell Visit
The Speaker of the National Assembly of the Republic of Serbia Maja Gojkovic received US Ambassador to Serbia Kyle Scott in farewell visit.
---
Gojkovic thanked the Ambassador for his engagement and contribution to the advancement of bilateral relations between Serbia and the US and the excellent cooperation between the US Embassy and the Serbian Assembly.
Gojkovic and Scott agreed that the cooperation between the National Assembly of the Republic of Serbia and the US Congress and Senate is vital for the advancement of overall bilateral relations, emphasizing to that end the importance of uninterrupted political dialogue and regular meetings between the members of the National Assembly and US senators and congressmen.
The activities of the National Assembly's PFG with the US and the Serbian Caucus in the US were highlighted as an important segment in the advancement of said cooperation.
Ambassador Scott thanked the National Assembly Speaker for the cooperation in the previous period, organization of joint exhibitions about important events in the shared history of Serbia and the US and participation in commemorating the anniversary of Operation Halyard as a sign of friendship and dedication to the development of good relations between the two countries.


---
---
sunday, 26 june
No announcements for selected date