National Assembly of the Republic of Serbia / Activities / Activity details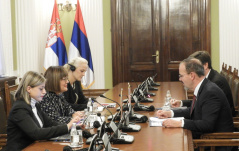 1 November 2019 The National Assembly Speaker and the US Ambassador to Serbia
Friday, 1 November 2019
Gojkovic Receives US Ambassador
The Speaker of the National Assembly of the Republic of Serbia Maja Gojkovic received the newly-appointed US Ambassador to Serbia Anthony Godfrey.
---
Gojkovic and Godfrey spoke about the importance of advancing overall bilateral relations between Serbia and the US, with Gojkovic emphasizing the significance of the cooperation between the National Assembly and the US Congress and Senate in that context.
Gojkovic said that the National Assembly had fully contributed to marking important events in the shared history of Serbia and the US such as the centenary of the Serbian Flag being hoisted above the White House and the exhibition commemorating Operation Halyard, the largest WWII Allied rescue operation behind enemy lines. Praising the successful cooperation with the National Assembly, the US Ambassador said he hoped to continue in the same vein.
Gojkovic and Godfrey also spoke about the Euro-integration of Serbia and the region and Gojkovic thanked the US for its support of Serbia's European integration, adding that EU accession remains the country's top priority.
Gojkovic and Godfrey discussed the National Assembly's work and emphasized the importance of continued economic cooperation.


---
---
tuesday, 16 august
12.00 - press conference of MP Srdjan Milivojevic (National Assembly House, 13 Nikola Pasic Square, Central Hall)