National Assembly of the Republic of Serbia / Activities / Activity details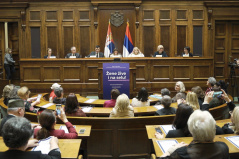 8 March 2019 The National Assembly Speaker opens the conference "Women in Rural Areas"
Friday, 8 March 2019
Gojkovic Opens Conference "Women in Rural Areas"
Today, on International Women's Day, the Speaker of the National Assembly of the Republic of Serbia Maja Gojkovic opened the conference "Women in Rural Areas" at the National Assembly House, launching a campaign and series of visits to rural areas and talks with women living and working in villages to raise awareness of their position and socially and economically empower them.
---
As the patron of the project, Gojkovic said that as a society we must not forget that women live in rural areas as well, where they are often neglected while the problems they are faced with are in many aspects more complex than the ones in urban communities.
"Our objective is to reach them, listen to them and raise awareness on their problems and increase their visibility in our society. We want to give them the same attention, support and chance", said Gojkovic, adding that the talks will start in the rural areas of Cacak, Sombor, Kikinda, Zajecar, Pozarevac, Subotica and Novi Sad.
The Serbian Assembly Speaker said that the rural areas in Serbia, as in many other countries in the region, Europe, and indeed the world, face many challenges such as underdevelopment, inadequate infrastructure and access to healthcare, migrations and mass exodus, which is all especially difficult on women.
Women are often overburdened with household chores, first in the fields and orchards, and often have no concept of weekends or rest, all the while their work goes unrecognized and undervalued. According to research, they often have no choice of employment or adequate healthcare and very little time for themselves.
The Serbian Assembly Speaker went on to say that living in a most often patriarchal and traditional community leads to men mostly being property owners, with only 12% women owning the houses they live in and 16% owning land.
"What makes their problems even more dire is the fact that more than 50% of rural women are unemployed and have lacking medical and pension coverage", said Gojkovic.
Gojkovic stressed that if we want to provide rural women with decent living standards and environment, we should seriously consider what support measures we can provide them with, among them more employment possibilities, education and training through programmes aimed at developing women entrepreneurship and incentives for women farmers.
"Together we must make sure all women, no matter where they live, have adequate healthcare and the chance to be economically equal, live and grow old with dignity".
The Serbian Assembly Speaker stressed that, speaking of women representation in the decision-making process, we most often think of women in cities, reminding the attending that though the National Assembly has 93 women MPs, which is good, they mainly come from Belgrade, Novi Sad and other urban areas.
"Mostly because of traditional decision-making and customs, women are often excluded from the process in the rural areas they live in. That is why we must focus on the ones who have decided to tear down these barriers and get involved in their areas, and to encourage other women to join in", said Gojkovic.
Gojkovic said that women in rural areas must not be neglected as they are the pillars of their families and the society, and as such essential for development. The Parliament Speaker said that women in Serbia have always been brave and responsible, taken care of their families, and had the same attitude to the society and state.
"Which is why we must insist on full gender equality every day, not just today", said Gojkovic.
Minister of Labour, Employment, Veteran and Social Affairs Zoran Djordjevic also addressed the attending, stressing that the Ministry he heads as well as the Serbian Government are investing considerable efforts into gender equality issues and empowerment of women in rural areas. He said that the position of women in rural areas is a burning gender equality issue chiefly because of the unpaid labour it entails. "This is an exceptionally important issue for Serbia and beyond because unemployment and gender equality in the labour market are global, national and local problems, ones to which countries more developed than Serbia struggle to find solutions", said the Minister.
He added that the Ministry of Labour, Employment, Veteran and Social Affairs, the Serbian Government and the President all consider this a key issue for the further democratic development of our society. The Serbian Government has taken an active stance and is providing incentives for women entrepreneurship in rural areas, cooperatives and tourist and hospitality service companies, said Djordjevic. The Minister also added that the National Assembly will be considering a new gender equality law this year, one expected to provide new, more advanced normative solutions in the area.
Minister without portfolio responsible for demography and population policy Prof. Dr Slavica Djukic Dejanovic said that 8 March is a symbol of the efforts to achieve social, economic and political equality, adding that women in rural areas deserve special attention and support. According to 2017 data, of the 2,700,000 people living in rural areas, both women and men, only one in five women own agricultural property most often because they are the sole heir, said Minister Djukic Dejanovic. Elderly women in rural areas are an especially vulnerable category because of their age, she said, stressing that it is important to raise awareness on the importance of regular medical check-ups among all women. We have to work together to create a world suited to all, concluded Minister Djukic Dejanovic.
Swedish Ambassador Jan Lundin praised Serbia's progress, because though it is not an EU member, it ranks firsts in Europe in the inclusion of women in political processes. He said that Sweden is investing considerable efforts into raising the global numbers of employed women, as evidenced, among other things, in the many projects it is conducting.
Smiljka Jovanovic, Secretary of Finance in the Government of AP Vojvodina, said that, to improve the position of women in rural areas, it is vital to ascertain the existing problems and put the social wheels in motion. She presented the provincial government's policies and measures in the field, emphasizing how important gender budgeting is to ensure equal opportunities for all women and equal evaluation of the needs of women living in urban and rural areas.
Milana Rikanovic, Head of the UN Women Office in Serbia, said that we must recognize that women in rural areas are a diverse group and adapt a series measures to meet their needs.
Jadranka Milanovic of UNICEF spoke about the importance of empowering girls in rural areas, which is a moral imperative for the organization she works for. She spoke about the education of girls in rural areas, starting with pre-school. "We have to empower girls by teaching them about children and women's rights, introducing them to training opportunities and encourage them to take active part in the decision-making processes in the communities they live in", Milanovic concluded.


---
Photo gallery
---
---
monday, 16 may
No announcements for selected date