National Assembly of the Republic of Serbia / Activities / Activity details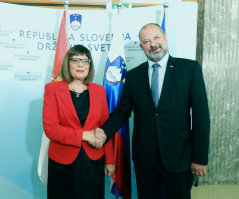 2 July 2019 National Assembly Speaker Maja Gojkovic and the President of the National Council of the Republic of Slovenia Alojz Kovsca
Tuesday, 2 July 2019
Gojkovic Meets with President of Slovenian National Council
In the course of her official visit to the Republic of Slovenia, the Speaker of the National Assembly of the Republic of Serbia Maja Gojkovic met today with the President of the National Council of the Republic of Slovenia Alojz Kovsca.
---
Gojkovic and the President of the National Council discussed the improvement of bilateral relations, regional cooperation and Slovenia's support of Serbia's EU accession efforts.
Gojkovic and Kovsca spoke about the two countries' respective legislative procedures and current parliamentary issues, agreeing that it is vital to further cooperation between the parliaments which greatly contribute to the development of overall relations between Serbia and Slovenia.
Gojkovic said that earlier in the day she had met with the Speaker of the Slovenian National Assembly Dejan Zidan and President Borut Pahor, affirming the good relations between the two countries characterized by reciprocal respect and understanding and Slovenia's friendly support of Serbia's path to Europe.
The President of the Slovenian National Council underlined the importance of speeding up the Serbia-EU talks and the National Council's readiness to assist in the legislative harmonization process. Kovsca said that the enlargement policy and the EU prospects of the countries in the region are always emphasized in the meetings of the senate presidents of EU member states, stressing the importance of having clear EU accession criteria.
Gojkovic invited the President of the Slovenian National Council to visit Serbia to foster the further development of parliamentary cooperation and exchange practical experiences concerning Euro-integration and economic cooperation, as well as other areas of mutual interest such as the development of local communities.
The Serbian parliamentary delegation also comprises the head of the PFG with Slovenia Milija Miletic and PFG member Snezana Bogosavljevic Boskovic.


---
---
tuesday, 18 january
14.00 - the National Assembly Speaker meets with OSCE Parliamentary Assembly Secretary General (National Assembly House, 13 Nikola Pasic Square, diplomatic salon of Prince Pavle)