National Assembly of the Republic of Serbia / Activities / Activity details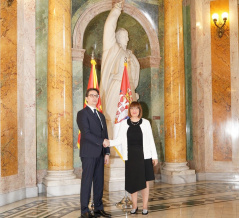 22 November 2019 National Assembly Speaker Maja Gojkovic and President of North Macedonia Stevo Pendarovski
Friday, 22 November 2019
Gojkovic Meets with President of North Macedonia
The Speaker of the National Assembly of the Republic of Serbia Maja Gojkovic met today with the President of North Macedonia Stevo Pendarovski, currently in official visit to the Republic of Serbia.
---
Gojkovic and Pendarovski agreed that the two countries are devoted to developing good-neighbourly relations, praising the importance of parliamentary cooperation for the development of the bilateral relations between the two states.
Gojkovic and Pendarovski discussed the current state-of-play of European integration process.
Gojkovic and Pendarovski said they were ready to strengthen regional cooperation and praised the so-called "mini-Schengen" initiative of Serbia, North Macedonia and Albania to enable free movement of people, goods, services and capital, agreeing that any initiative that facilitates movement and improves the life of the citizens should have the full support of all the political and social factors in the region.
Gojkovic said that the parliamentary cooperation has so far been very good thanks to regular meetings, but there is still room to strengthen it further, and thanked the Macedonian parliamentary delegation for its participation in the 141st Assembly of the Inter-Parliamentary Union in Belgrade.
Gojkovic and Pendarovski praised the growth of trade, pointing out that there are many opportunities for further development both of trade and other types of economic cooperation, especially in terms of infrastructural connectivity of the region.


---
---
monday, 15 august
11.00 - press conference of MP MA Ivan Kostic (National Assembly House, 13 Nikola Pasic Square, Central Hall)