National Assembly of the Republic of Serbia / Activities / Activity details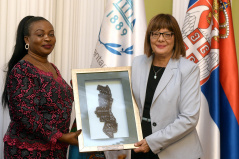 12 October 2019 National Assembly Speaker Maja Gojkovic and the Speaker of the National Assembly of Malawi Catherine Gotani Hara
Saturday, 12 October 2019
Gojkovic Meets with Parliament Speakers Under Auspices of IPU Assembly
The Speaker of the National Assembly of the Republic of Serbia Maja Gojkovic met today with the parliament speakers of Malawi and Armenia and the Deputy Parliament Speaker of Syria, taking part in the upcoming 141st Assembly of the Inter-Parliamentary Union (IPU) in Belgrade, 13 - 17 October.
---
Gojkovic met with the Speaker of the National Assembly of Malawi Catherine Gotani Hara whom she thanked for taking part in the 141st IPU Assembly and extended her condolences on the devastation caused by cyclone Idai.
The two parliament speakers agreed that it is good to see the friendship built in the Non-Aligned Movement ever renewed in modern times. The parliaments can contribute to cooperation through the establishment of parliamentary friendship groups and cooperation within the Pan-African Parliament with which the Serbian Assembly has a Memorandum of Cooperation, opined the official and went on to discuss the potentials for exchange of parliamentary experience and practice.
The two parliament speakers also talked about climate change which is a huge global challenge, with the Parliament Speaker of Malawi saying that her country cannot deal with it alone and that other, especially developed countries, need to invest more efforts into dealing with this issue and keep it on the agenda of the IPU and other organizations.
The Serbian Assembly Speaker also spoke about the development of parliamentary cooperation with the Deputy Speaker of the Parliament of the Syrian Arab Republic Najdat Anzour, whom she thanked for the participation of the Syrian delegation in this important international parliamentary event.
Discussing current issues, Gojkovic and Anzour opined that the relations between the two countries are traditionally friendly. Gojkovic thanked Syria for not recognizing the unilaterally declared independence of Kosovo-Metohija and for it support during so-called "Kosovo's" attempts to join international organizations.
Anzour reaffirmed Syria's stance on Serbia's territorial integrity and sovereignty saying that Syria will continue to support Serbia in the Kosovo-Metohija issue in international forums.
Gojkovic also met with the Parliament Speaker of Armenia Ararat Mirzoyan whom she thanked for taking part in the 141st IPU Assembly and stressed that the two countries are bound by friendly relations, as evidenced by Armenian President Armen Sarkissian's recent visit to Serbia.

Gojkovic and Mirzoyan praised the two countries' determination to strengthen economic cooperation and emphasized in that context the importance of the Free Trade Agreement signed between Serbia and the Eurasian Economic Union on 25 October of this year.
Gojkovic thanked Armenia for respecting Serbia's territorial integrity and sovereignty and international law, stressing that Serbia truly appreciates Armenia's understanding on this issue of great importance for our country.


---
Photo gallery
---
---
thursday, 11 august
No announcements for selected date