National Assembly of the Republic of Serbia / Activities / Activity details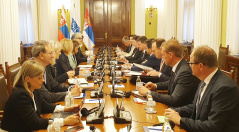 4 June 2019 National Assembly Speaker Maja Gojkovic in meeting with Czech Minister of Foreign and European Affairs and OSCE Chairperson-in-Office Miroslav Lajcak
Tuesday, 4 June 2019
Gojkovic Meets with Lajcak
The Speaker of the National Assembly of the Republic of Serbia Maja Gojkovic met today with Czech Minister of Foreign and European Affairs and OSCE Chairperson-in-Office Miroslav Lajcak.
---
Saying that Serbia fully supports the activities of the Slovak chairmanship of OSCE, Gojkovic stressed that it is especially important for the country that OSCE keeps its overall status neutral approach to Kosovo-Metohija.
Gojkovic went on to speak about the cooperation with the OSCE Mission in Serbia in the reform of the judiciary, rule of law and the drafting of the new media strategy, stating that the National Assembly prizes its cooperation with the OSCE Parliamentary Assembly, as evidenced by the Serbian Assembly standing delegation's active participation in the OSCE PA.
Lajcak said that Slovakia had taken over the OSCE chairmanship with a deep belief in the organization's potential and its important role in strengthening dialogue, preventing conflict and tackling 21st century challenges.
Lajcak said that he has come to Serbia mere days after the 2019 Progress Report was released, reminding the host that Slovakia strongly supports Serbia and the region's EU prospects.
Gojkovic said that Serbia is continuing its internal reform and is open improving the parliament's work. She reminded the guest that she had invited the representatives of the opposition to a Collegium, a practice she intends to continue, and is happy to report that one parliamentary group and some independent MPs who had so far boycotted the plenary, have returned to the sessions.
Lajcak said that public protests are part of democracy but they should not be a place of action instead of working within the institutions and pointed out that the opposition has its rightful place in democracy as well as responsibility in the assembly.
Gojkovic and Lajcak said that the relations between Serbia and Slovakia are strong and friendly and praised the resolution of the outstanding debt by the Agreement on the regulation of Serbia's debt towards the Slovak Republic which resolved the only open issue between the two countries.
Gojkovic said that the interparliamentary cooperation between Serbia and Slovak Republic is good, opining that this is greatly aided by the members of the Slovak national minority in Serbia and the Serbian national minority in Slovakia.
---
---
tuesday, 18 january
14.00 - the National Assembly Speaker meets with OSCE Parliamentary Assembly Secretary General (National Assembly House, 13 Nikola Pasic Square, diplomatic salon of Prince Pavle)