National Assembly of the Republic of Serbia / Activities / Activity details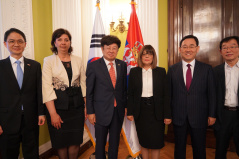 17 May 2019 The National Assembly Speaker with the delegation of the Parliament of the Republic of Korea
Friday, 17 May 2019
Gojkovic Meets with Korean Parliamentary Delegation
The Speaker of the National Assembly of the Republic of Serbia Maja Gojkovic met today with a delegation of the Parliamentary Friendship Group with Serbia of the Parliament of the Republic of Korea headed by Jongkoo Lee.
---
The officials praised the traditionally good and friendly bilateral relations between the two countries, saying that the 30th anniversary of diplomatic relations which is this year would be especially good for the further development of relations and an excellent opportunity to meet more.
Gojkovic said that the Serbian Assembly is more than happy to take part in marking this important date and to contribute to the advancement of relations. The Serbian Assembly Speaker said that there is ample room to advance interparliamentary cooperation at the level of working bodies in charge of foreign affairs, economy, agriculture, culture, education, tourism, sport and the environment, as well as at the level of parliamentary friendship groups and standing delegations to international parliamentary organizations.
The head of the Parliamentary Friendship Group with Serbia of the Parliament of the Republic of Korea Jongkoo Lee opined that the two countries should expand overall cooperation, not just in the spheres of politics and the economy. He said that he is well aware of the development of Serbia's economy and the advantages of investment and that Korea fully supports Serbia's economic growth strategy.
Gojkovic said that there are ample opportunities for economic cooperation and the Serbia is ready to expand its business ties and is open to new investments by South Korean companies.
The officials emphasized the importance of developing tourist and cultural ties, and Gojkovic said that Serbia is interested in presenting its touristic potential to the people of the Republic of Korea, emphasizing the importance of cultural events such as the Days of Korean Culture in Serbia to that end.
Gojkovic also mentioned that Belgrade would be hosting the 141st IPU assembly, 13 – 17 October, which she hopes would be attended by a high-tier Korean delegation, and added that it would be good to organize a visit by the Speaker of the Parliament of the Republic of Korea to Serbia in the year of the jubilee.


---
---
tuesday, 18 january
14.00 - the National Assembly Speaker meets with OSCE Parliamentary Assembly Secretary General (National Assembly House, 13 Nikola Pasic Square, diplomatic salon of Prince Pavle)