National Assembly of the Republic of Serbia / Activities / Activity details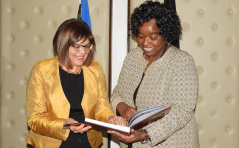 19 February 2019 National Assembly Speaker Maja Gojkovic and Kenyan Foreign Minister Monica Juma
Tuesday, 19 February 2019
Gojkovic Meets with Kenyan Foreign Minister
The Speaker of the National Assembly of the Republic of Serbia Maja Gojkovic, currently in official visit to the Republic of Kenya, met today with Kenyan Minister of Foreign Affairs Monica Juma.
---
The officials agreed that the visit both reaffirms the traditionally good relations between the two countries, dating back to the times of Kenya's independence and joint activities in the Non-Aligned Movement, and lends new momentum to the overall cooperation between them.
Gojkovic and Juma said that the historical friendship and support obliges the countries to advance bilateral cooperation in all matters of common interest.
Gojkovic thanked Kenya for its principled position on international law i.e. for not recognizing the unilaterally declared independence of Kosovo-Metohija and respecting Serbia's territorial integrity and sovereignty. The Serbian Assembly Speaker also thanked Kenya for never voting contrary to Serbia's interests in international forums.
Foreign Minister Juma said that Kenya has always had a consistent stance on international law and the unilaterally declared independence of Kosovo-Metohija which it will not change. Juma said that the country appreciates Serbia's commitment to dialogue and reaching a peaceable solution, opining that imposing a 100% customs tax on goods from central Serbia was a wrong move, one that harms both the ones it was directed against, as well as the ones who imposed it.
Gojkovic and Juma also discussed parliamentary cooperation, especially under the auspices of the Inter-Parliamentary Union, as well as cooperation in the areas of agriculture, education, healthcare, military medicine and gender equality.
Gojkovic had previously met with the speakers of the Kenyan National Assembly and Senate and attended parts on the sessions of the Kenyan National Assembly and Senate.


---
---
monday, 16 may
No announcements for selected date