National Assembly of the Republic of Serbia / Activities / Activity details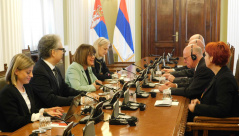 4 June 2019 National Assembly Speaker Maja Gojkovic in meeting with the Chairman of the Konrad Adenauer Foundation Norbert Lammert
Tuesday, 4 June 2019
Gojkovic Meets with KAS Chairman Norbert Lammert
The Speaker of the National Assembly of the Republic of Serbia Maja Gojkovic met today with the Chairman of the Konrad Adenauer Foundation (Konrad-Adenauer-Stiftung – KAS) Norbert Lammert visiting Serbia to attend the international conference "Building bridges – talking about Europe".
---
Gojkovic thanked Lammert, who had visited Serbia two years ago as President of the German Bundestag, for the excellent cooperation and Gojkovic and Lammert agreed that the cooperation between the Serbian Assembly and Bundestag is very dynamic, including that at the level of committees and MP exchange.
Gojkovic also spoke about Serbia's excellent cooperation with the Konrad Adenauer Foundation, as evidenced by the abovementioned international conference hosted by Novi Sad, and the National Assembly's successful cooperation with the Konrad Adenauer Foundation office in Belgrade via a variety of projects and joint activities, which the Serbian Assembly's is more than ready to continue through similar joint projects and activities.
Speaking about Serbia and the Western Balkans' EU prospects, Lammert said that he firmly believes Serbia to be one of the few countries who do have real EU accession prospects and the Western Balkan region does belong to the European community historically and culturally speaking. With that in mind, it must be in Europe's interest to have the region as part of its community, but Lammert said he cannot speculate when the countries would be ready to join the EU or when the EU itself would be ready for enlargement.
Gojkovic then briefed Lammert on the Parliament's work at present, saying that a small portion of the opposition is boycotting it and that she had invited and would continue to invite the heads of the parliamentary groups to consultations on how to improve the Parliament's operation and the existing Rules of Procedure.
Lammert spoke about similar experiences in the region where the opposition boycotted the parliament, saying that the parliament is the most important political forum for a nation and it is a bad decision not to use it and that the majority should also be critical of its own actions.
Gojkovic said that it is good that some independent MPs and one parliamentary group had returned to the Assembly sessions due to the importance of the topics discussed at the Parliament.


---
---
sunday, 26 june
No announcements for selected date