National Assembly of the Republic of Serbia / Activities / Activity details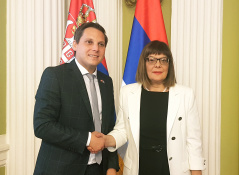 11 July 2019 National Assembly Speaker Maja Gojkovic with the head of the Austrian Parliament's Friendship Group with Serbia Christian Kovacevic
Thursday, 11 July 2019
Gojkovic Meets with Head of Austrian PFG with Serbia
The Speaker of the National Assembly of the Republic of Serbia Maja Gojkovic met today with Christian Kovacevic, Austrian politician of Serb origin, head of the Austrian Parliament's Friendship Group with Serbia.
---
The officials agreed that Serbia and Austria are developing good and friendly relations and maintaining an admirable dynamics of meetings at all levels of power.
Gojkovic emphasized the importance of parliamentary relations for overall cooperation, adding that she was sure the good cooperation between the committees in charge of foreign affairs and Euro-integration, as well as agriculture, environmental; protection, education and culture will continue after the coming elections in Austria.
Gojkovic and Kovacevic talked about the process of Serbia's Euro-integration in the context of the latest developments in the EU, with the National Assembly Speaker saying that Serbia has so far opened 17 negotiation chapters in its pre-accession talks with the EU, but the dynamics should pick up for the chapters Serbia is ready to open and the enlargement process should find its way onto the EU agenda.
Gojkovic briefed the guest on the situation in Kosovo-Metohija and Pristina's unilateral moves, stressing that Belgrade is committed to dialogue and the 100% customs tariffs on goods from central Serbia and Bosnia and Herzegovina need to be revoked.
Gojkovic said that the Serbian community in Austria that has managed to preserve its culture, language and ties with the mother state and at the same time integrated into Austrian society is the bridge of cooperation between Serbia and Austria.
Gojkovic and Kovacevic also talked about the importance of furthering economic cooperation and the National Assembly Speaker took the opportunity to invite the Austrian Parliament to the coming 141st Assembly of the Inter-Parliamentary Union in Belgrade, on 13-17 October.
The meeting was attended by National Assembly Deputy Speaker Veroljub Arsic who is also a member of the PFG with Austria, and MP and member of the PFG with Austria Snezana Bogosavljevic Boskovic.


---
---
sunday, 26 june
No announcements for selected date