National Assembly of the Republic of Serbia / Activities / Activity details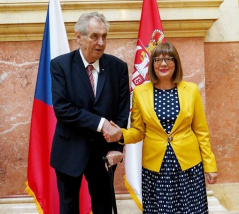 12 September 2019 National Assembly Speaker Maja Gojkovic and Czech President Milos Zeman
Thursday, 12 September 2019
Gojkovic Meets with Czech President Milos Zeman
The Speaker of the National Assembly of the Republic of Serbia Maja Gojkovic met today with Czech President Milos Zeman currently in official visit to Serbia.
---
The two officials highlighted the traditionally friendly bilateral relations, opining that Serbia and the Czech Republic should develop good and intensive cooperation across the board since there is ample room to do so in the fields of economy, transport infrastructure, defence industry, internal affairs and culture.
Gojkovic and Zeman emphasized the importance of parliamentary cooperation for the development of overall relations between Serbia and the Czech Republic, speaking in favour of intensifying cooperation at the level of working bodies in areas of mutual interest and parliamentary friendship groups which are the bridge of cooperation between the Serbian and Czech people.
Gojkovic thanked Zeman for his friendly stance on the all-important issue for Serbia that of Kosovo-Metohija, stressing that Belgrade is committed to dialogue and finding a compromise solution.
Gojkovic also thanked the Czech Republic for its genuine and friendly support of Serbia's European integration.
The officials also stressed that there is mutual interest in strengthening economic cooperation, seeing how the Czech Republic is the fourth biggest investor in Serbia, and highlighted the significance of the Serbia-Czech Republic business forum in the matter.
They discussed the potential for cooperation and investment in telecommunication, food industry, machine engineering, digitalization, as well as culture and the film industry.
The officials highlighted the importance of the coming visit of the Speaker of the Czech Chamber of Deputies Radek Vondracek in October for the further development of parliamentary relations.
Gojkovic informed the Czech guests about Belgrade hosting the 141st Inter-Parliamentary Union Assembly on 13-17 October, expected to be attended by a great many heads of parliament from across the world, as hopefully a high-tier Czech delegation.
The visiting Czech delegation also comprised First Deputy Prime Minister and Minister of the Interior Jan Hamacek, Deputy Prime Minister and Minister of Industry and Trade Karel Havlicek, Minister of Defence Lubomir Metnar, Minister of Transport Miloslav Stasek and Jaroslav Foldyna, member of the Czech Chamber of Deputies and Head of its PFG with Serbia.
The National Assembly delegation comprised the Head of the PFG with the Czech Republic Dr Sci.med Darko Laketic, Chairman of the Foreign Affairs Committee Prof. Dr Zarko Obradovic, member of the Defence and Internal Affairs Committee MA Igor Becic and the Chairperson of the Committee on the Economy, Regional Development, Trade, Tourism and Energy Snezana B. Petrovic.


---
---
tuesday, 25 january
12.00 - the National Assembly Speaker meets with representatives of the Chamber of Nurses and Healthcare Technicians (National Assembly House, 13 Nikola Pasic Square, hall 1)