National Assembly of the Republic of Serbia / Activities / Activity details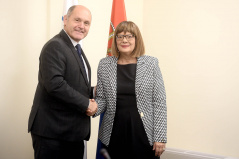 15 October 2019 National Assembly Speaker Maja Gojkovic with Austrian Parliament Speaker Wolfgang Sobotka
Tuesday, 15 October 2019
Gojkovic Meets with Austrian Parliament Speaker
The Speaker of the National Assembly of the Republic of Serbia Maja Gojkovic met today with Austrian Parliament Speaker Wolfgang Sobotka, taking part in the 141st Assembly of the Inter-Parliamentary Union in Belgrade.
---
Gojkovic thanked Sobotka for his participation in the first IPU Assembly in 20 years to be held in Europe where the organization was founded 130 years ago, adding that it is important that Europe be more active in multilateral gatherings like this one.
Opining that the relations between Serbia and Austria are developing very intensively, Gojkovic said that the economic relations parallel the good political relations.
Gojkovic and Sobotka also spoke about the Euro-integration of the Western Balkans and Gojkovic thanked Austria for its support of the EU enlargement policy, saying that Serbia is aware that it still has a lot to do and the support of friendly countries such as Austria is greatly appreciated.
Sobotka said that Austria's foreign policy is committed to EU enlargement, at the level of government, parliamentary and economic cooperation the country has shown that enlargement is essential, and emphasized the importance of the Euro-integration of the Western Balkans for stable development.
Sobotka congratulated Gojkovic for the organization of the IPU Assembly, for bringing it home to Europe, its point of origin, agreed that Europe's engagement is very important and that Serbia is like a bridge, and reminded the Serbian Assembly Speaker that Austria will next year be host to the IPU Conference of Speakers of Parliament.
Gojkovic informed Sobotka about the inter-party dialogue mediated by the European Parliament, stressing that her door is open for round two in November to improve the environment for the coming elections and parliamentary procedures.
Sobotka said he supports dialogue as a useful and important step toward improving the environment and laws, as the media, transparency and financing of political parties are the central topics of the dialogue.


---
Photo gallery
---
---
thursday, 30 june
10.00 - the National Assembly Speaker delivers keynote address at the CSR Serbia 2022 conference (National Assembly House, 13 Nikola Pasic Square, Small Hall)

11.00 - the National Assembly Speaker meets with the EU Special Representative for the Belgrade-Pristina Dialogue (National Assembly House, 13 Nikola Pasic Square, hall 1)

15.00 - sitting of the Foreign Affairs Committee (National Assembly House, 13 Nikola Pasic Square, hall 2)

20.00 - the National Assembly Speaker speaks at the closing ceremony of the international competition Mathematical Grammar School Cup (National Assembly House, 13 Nikola Pasic Square, Small Hall)