National Assembly of the Republic of Serbia / Activities / Activity details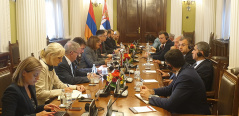 4 October 2019 National Assembly Speaker Maja Gojkovic and Armenian President Armen Sarkissian
Friday, 4 October 2019
Gojkovic Meets with Armenian President
The Speaker of the National Assembly of the Republic of Serbia Maja Gojkovic met today with the President of Armenia Armen Sarkissian, in official visit to Serbia.
---
Gojkovic opined that the Armenian President's visit testifies to the two countries' shared wish to strengthen and advance their relationship and bilateral cooperation in line with the traditionally close ties between the two nations and opens a new chapter in the bilateral relations. She praised the announced elimination of visas which will promote communication and cooperation at the political and economic level, as well as tourism, and make it possible for the younger generations to learn more about the two countries' history and traditional friendship.
Gojkovic said that there is ample room to advance interparliamentary cooperation via an exchange of high-tier visits, as well as cooperation at the level of working bodies in charge of the economy, culture and education, parliamentary friendship groups and within international parliamentary organizations.
Gojkovic said she was ready to advance the overall relations between the two countries from the aspect of parliamentary cooperation, reminding the guest of the reassuring steps made to that end during her visit to Armenia in 2016.
Gojkovic emphasized the importance of the fact that the Armenian Parliament Speaker Ararat Mirzoyan will be heading the national delegation to the 141st IPU Assembly in Belgrade, 13-17 October, as this will be an excellent opportunity to discuss cooperation specifics to give the presidents' talks and agreements a parliamentary dimension.
Gojkovic and Sarkissian spoke about matters of interest for Serbia and Armenia, stressing that it is vital to exchange visits and maintain political dialogue to better understand the issues important for the two countries and the problems they are faced with.
Gojkovic thanked Armenia for its understanding in the matter of Kosovo-Metohija and the support for the continuation of the dialogue between Belgrade and Pristina as a means to find a sustainable compromise solution.
Sarkissian said that he considers Serbia a friendly country, hoping for an intensification of overall cooperation. The Armenian President praised the interparliamentary relations, saying that there have been some big changes in Armenia and inviting the Serbian Assembly Speaker to visit the country again.
Sarkissian said that there is ample potential to advance the political dialogue, economic cooperation, and the volume of trade in the fields of the food industry and IT sector between the two countries, as well as open new markets for Serbia not only in the countries of the Eurasian Economic Union.
Gojkovic and Sarkissian agreed that it is important to note that Serbia will be signing a Free Trade Agreement with the Eurasian Economic Union on 25 October, during Armenia's presidency.
Gojkovic and Sarkissian also discussed cooperation on the local level and fostering ties between Serbian and Armenian towns.


---
---
friday, 1 july
11.00 - the National Assembly Speaker addresses the conference on the Position of Serbia's in the Euro-Atlantic Community (National Assembly Building, 14 Kralja Milana Street, Grand Hall)