National Assembly of the Republic of Serbia / Activities / Activity details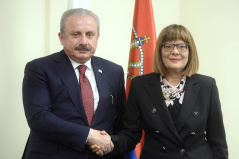 16 October 2019 National Assembly Speaker Maja Gojkovic and the Speaker of the Turkish Grand National Assembly Mustafa Şentop
Wednesday, 16 October 2019
Gojkovic Meets Turkish Parliament Speaker
The Speaker of the National Assembly of the Republic of Serbia Maja Gojkovic met today with the Speaker of the Turkish Grand National Assembly Mustafa Şentop, thanking Turkey for sending a high-level parliamentary delegation to the 141st Assembly of the Inter-Parliamentary Union in Belgrade.
---
Gojkovic said that the political relations between the two countries are at an all-time high and that the many reciprocal visits contribute to the development of cooperation, as did the Turkish President Recep Tayyip Erdoğan's recent visit and the opening of the section of the Belgrade-Sarajevo highway as result of the Serbia-Turkey-Bosnia and Herzegovina trilateral cooperation.
Şentop said that the leaders of the two countries have an excellent, friendly relationship which in turn strengthens the level of cooperation, opining that the Serbian and Turkish parliaments should advance and further the contacts and ties existing on the presidential level.
Şentop also said that Turkey will not forget Serbia's support immediately after the unsuccessful coup in the country.
The Turkish Parliament Speaker stressed that Turkey believes that Serbia has the central position in the region and contributes to its peace, stability and well-being, which is why it should take active part in furthering relations in other organizations, such as IPU.
Gojkovic and Şentop said that the economic cooperation shows tendencies of further growth and there is ample room for cooperation in the spheres of trade, investment, textile industry and the banking system. The Turkish Parliament Speaker said that the volume of trade reached 1.3 million dinars in 2018 and the volume of Turkish investment exceeded 200 million US dollars, with increasing numbers of Turkish investors coming into Serbia.
Gojkovic and Şentop agreed that the overall interparliamentary cooperation in the previous period has been very good and uninterrupted, remarking that the fruitful cooperation between the two parliaments was evidenced in the Protocol of Cooperation between the National Assembly of the Republic of Serbia and the Turkish Grand National Assembly signed in April 2015.
The two parliament speakers highlighted the importance of cooperation between parliamentary friendship groups and delegations in international forums and Gojkovic stressed that the Serbian Assembly is ready contribute to the governments' talks and efforts through the ratification of the agreements they come to. Şentop invited the Serbian Assembly Speaker to the celebration of the centenary of the Turkish Grand National Assembly in April next year.


---
Photo gallery
---
---
thursday, 18 august
No announcements for selected date