National Assembly of the Republic of Serbia / Activities / Activity details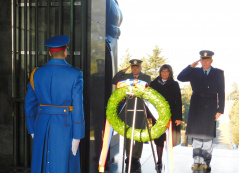 15 February 2019 The National Assembly Speaker lays a wreath at the Monument to the Unknown Hero on Avala
Friday, 15 February 2019
Gojkovic Lays Wreath at Monument to Unknown Hero on Avala
The Speaker of the National Assembly of the Republic of Serbia Maja Gojkovic laid a wreath at the Monument to the Unknown Hero on Avala today to commemorate Statehood Day.
---
Gojkovic wrote in the memory book:
"Your extraordinary heroism and great sacrifice forever wrapped the unbreakable spirit of the Serbian people in the ideals of freedom, justice and independence. That is a covenant for all the generations to come and the way to lead us united and unshakeable to the future. Rest in peace and eternal glory. Thank you."
The ceremony was attended by the Serbian Army Guard of Honour, Commander of the Land Forces Lieutenant-General Miroslav Simovic and Commander of the Air Force and Air Defence Brigadier General Dusko Zarkovic.


---
---
monday, 16 may
No announcements for selected date