National Assembly of the Republic of Serbia / Activities / Activity details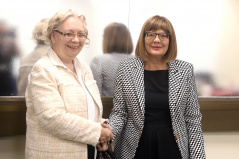 15 October 2019 National Assembly Speaker Maja Gojkovic with UN Office Geneva Director-General Tatyana Valovaya
Tuesday, 15 October 2019
Gojkovic Has Series of Bilateral Meetings
The Speaker of the National Assembly of the Republic of Serbia Maja Gojkovic met today with the Parliament Speaker of Thailand Chuan Leekpai, UN Office Geneva Director-General Tatyana Valovaya and the Vice President of Red Cross Gilles Carbonnier, taking part in the 141st Assembly of the Inter-Parliamentary Union in Belgrade.
---
Gojkovic thanked the Speaker of the Thai House of Representatives Chuan Leekpai for taking part in the 141st IPU Assembly and coming to Belgrade which is exceptionally important if the two countries are to renew their friendly cooperation in the year marking the 65th anniversary of diplomatic relations.
Gojkovic emphasized the importance of developing bilateral relations in all areas of common interest, as well as in the fields of economy and tourism.
Leekpai said that though geographically distant, Serbia and Thailand are getting closer, and recalled their common ties within the Non-Aligned Movement. Leekpai invited the Serbian Assembly Speaker to pay an official visit to Thailand, as an opportunity to consider the ways to improve parliamentary and overall cooperation. Leekpai also spoke about tourist cooperation and noted that Bangkok is one of the most visited tourist destinations and that Belgrade is becoming a more so.
Gojkovic also met with UN Office Geneva Director-General Tatyana Valovaya and took the opportunity to stress that the United Nations is the most important organization, especially for Serbia because it respects the principle of territorial integrity and sovereignty. Gojkovic said that the UN Charter and goals are very much a current issue in the international community today, given the many challenges of the modern world. That is why, the Serbian Assembly Speaker said, respecting international law is the overreaching theme of the Belgrade IPU Assembly, bearing in mind that international law is under fire world-wide and it is important that parliamentarians contribute to the preservation and strengthening of international law. Gojkovic also said that the United Nations will mark 75 years in Serbia next year.
Gojkovic also talked with the Vice President of Red Cross Gilles Carbonnier, also a guest of the 141st IPU Assembly, emphasizing how important the National Assembly considers the work of the Red Cross and adding that the participation of this important international organization in the work of the IPU is truly significant. Gojkovic went on to congratulate the centenary of the founding of the International Federation of Red Cross and Red Crescent Societies, recalling that Serbia has been a member of this organization since 1876.
Carbonnier congratulated the host on the organization of the 141st IPU Assembly and the large number of parliament speakers in attendance, pointing out the organization's good cooperation with Serbia.


---
Photo gallery
---
---
tuesday, 25 january
12.00 - the National Assembly Speaker meets with representatives of the Chamber of Nurses and Healthcare Technicians (National Assembly House, 13 Nikola Pasic Square, hall 1)