National Assembly of the Republic of Serbia / Activities / Activity details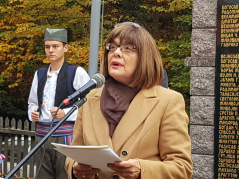 21 October 2018 National Assembly Speaker Maja Gojkovic at the unveiling of the memorial to the soldiers fallen in the Balkan wars and World War One in Gornja Trepca
Monday, 22 October 2018
Gojkovic Attends Unveiling of Memorial to Soldiers Fallen in Balkan Wars and World War One
The Speaker of the National Assembly of the Republic of Serbia Maja Gojkovic attended the unveiling of the memorial to the soldiers fallen in the Balkan wars and World War One in Gornja Trepca near Cacak and on the occasion stressed that the Serbian history was difficult and fraught with suffering, but it was forged by honourable, honest and brave men and it is up to today's generations to keep the memory of the glorious pages of Serbian history alive.
---
Gojkovic said that they did not break Serbia a century ago and its people kept their freedom-loving spirit aware that that is the only way they can live with dignity in their own country.
"And today, Serbia has no greater interest or more important mission than to keep its hard-won freedom, peace and stability", said Gojkovic.
The Parliament Speaker said that we must not allow history to be re-written stressing that it is today's generations' duty to keep the heritage the ancestors left them and teach future generations about the value of freedom.
"This is a year of big jubilees, the year we celebrate a grand victory. Now, a century later as we remember the glory days, it is the time to thank and repay those who knew no greater prize than freedom and independence", said Gojkovic.
Gojkovic said that Serbia's final liberation from the Osman rule in the Balkan wars, the defence of the state from a hugely superior enemy in World War One and their battles were accompanied by the suffering of the people led by a desire to live and work free in their own country.


---
---
sunday, 22 may
No announcements for selected date