National Assembly of the Republic of Serbia / Activities / Activity details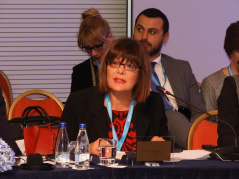 19 March 2019 National Assembly Speaker Maja Gojkovic at the XVI Conference of Speakers of Parliaments of the Adriatic-Ionian Initiative
Tuesday, 19 March 2019
Gojkovic: Tourism and Culture Connect the Region and Promote Development
Speaking at the XVI Conference of Speakers of Parliaments of the Adriatic-Ionian Initiative in Montenegro, the Speaker of the National Assembly of the Republic of Serbia Maja Gojkovic stressed that tourism and culture offer many opportunities for cooperation in the region and open the path to individual progress of each of the countries and the region as a whole.
---
Gojkovic said that the development of tourism has taken Serbia by storm in the last few years with tourist numbers swelling to make the country second in Europe. Tourism is becoming an increasingly important branch with a huge impact on the country's economy both thanks to the influx of domestic and foreign tourists.
"Our market is opening up to other tourist markets, most importantly the EU countries but also countries outside the EU such as Turkey, the Russian Federation, China, the US, India, South Korea, Iran and Japan", said Gojkovic adding that at its latest session the National Assembly passed new laws on tourism and the hospitality industry to better regulate the field.
The Serbian Assembly Speaker said that though the members of the Adriatic-Ionian Initiative all have a rich cultural heritage and tourist offers, tourists both from the continent and distant destinations can best be attracted if the countries in the region joined efforts and improved cooperation. That is why the members of the Adriatic-Ionian Initiative should work together and create a common, regional tourist product as well as promote cultural tourism, Gojkovic said.
"It is important to assess and use our potential cultural and archaeological heritage together and focus more on developing tourism on the rivers and in villages which are attracting more and more tourists. Regional cooperation also opens up the road to using more EU funds to better promote the regional tourist offer at international tourism fairs and markets", said Gojkovic.
The Serbian Assembly Speaker said that tourism and culture are intertwined and as such are a good example of the ties between cultural heritage and tourism, and the need for regional cooperation on the existing cultural routes such as the Roman Emperors and Danube Wine Route.
The Assembly Speaker said that it is also important to encourage cooperation in modern arts and creative industries such as the film industry - for example Johnny Depp filmed in Serbia and after that in Montenegro. Gojkovic said that it would be good to consider passing regulations to facilitate the mobility and work of people in the film industry in the Adriatic-Ionian region, adding that digital and creative industries offer exceptional opportunities for economic development and employment and connect the region with the whole world.
Gojkovic said that Serbia's national focus during its coming chairmanship of the Adriatic-Ionian Initiative, starting on 1 June, would be on tourism and culture as branches that can influence interconnectivity and cooperation in the region to everyone's benefit.


---
---
wednesday, 6 july
No announcements for selected date