National Assembly of the Republic of Serbia / Activities / Activity details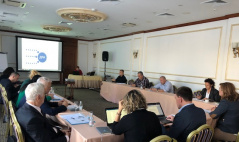 27 September 2019 Participants of the GOPAC Serbia National Branch workshop
Friday, 27 September 2019
GOPAC Serbia National Branch Holds Workshop
The two-day workshop of the Global Organization of Parliamentarians Against Corruption (GOPAC) Serbia National Branch focused on the recommendations of the Council of Europe's GRECO report and legislation important for combating corruption currently being drafted or already in National Assembly procedure.
---
The members of GOPAC Serbia National Branch discussed these issues with Nemanja Nenadic from Transparency Serbia.
On day two of the workshop, Stojanka Milovanovic, Auditor General of the State Audit Institution, presented the results of external and internal audits, while UNDP consultant Jovan Nicic presented the recommendations for ascertaining corruptive elements.
GOPAC Serbia National Branch adopted the following conclusions:
National Assembly Speaker Maja Gojkovic will be forwarded a proposal to re-launch the procedure to pass a code of conduct for the MPs;
The Ministry of Justice will be asked to assess the extent to which the recommendations of the GRECO report concerning the judiciary and prosecution have been met;
The Anti-Corruption Agency will be asked to invite GOPAC as an organization to take part in workshops concerning the interaction of lobbyists and third parties to ensure a better implementation of the Law on Lobbying;
The MPs, members of GOPAC, will launch an initiative with the National Assembly to pass related by-laws along with bills;
At the initiative of GOPAC, the National Assembly working bodies are to initiate public hearings as an important segment in the fight against corruption.


---
---
thursday, 24 september
No announcements for selected date