National Assembly of the Republic of Serbia / Activities / Activity details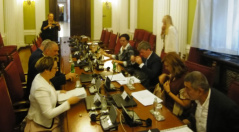 17 September 2019 The members of the Foreign Affairs Committee and the European Integration Committee in meeting with the Slovenian Parliamentary delegation
Tuesday, 17 September 2019
Foreign Affairs and European Integration Committee Members Receive Members of Slovenian PFG with Serbia
The members of the Foreign Affairs Committee and the European Integration Committee met today with a delegation of the Slovenian PFG with Serbia, headed by Predrag Bakovic.
---
The Chairman of the Foreign Affairs Committee Prof. Dr Zarko Obradovic said that the two countries enjoy excellent parliamentary cooperation, aided to a great degree by the excellent relations between the two parliament speakers. He opined that the overall relations between Serbia and Slovenia are good, the only difference being the issue of Kosovo-Metohija. Speaking of Serbia's European integration, Obradovic said that of the 17 negotiation chapters opened so far, three have been temporarily closed, and Serbia has the administrative capacity to open more. However, Chapter 35 – Belgrade-Pristina dialogue, is the most important one in the talks, Obradovic said stressing that the EU states should support a dialogue that would lead to a mutually acceptable compromise.
"We entered the process willingly, hoping to find a solution to ensure a better life for our people and we would like to see the Brussels Agreement not only talked about, but implemented", said the Chairman of the Foreign Affairs Committee, adding that as the guarantor of the Brussels Agreement the EU has not done much to see it implemented in the last six years.
Obradovic thanked the Slovenian parliamentarians for the support for Serbia's EU integration, which remains the country's foreign policy priority. He said that Serbia wishes to continue to develop its political and economic relationship with Slovenia, as well as in other areas.
The Head of the Slovenian PFG with Serbia Predrag Bakovic agreed with his hosts that the cooperation between the two countries is excellent adding that Slovenia does not have as many governmental and parliamentary meetings with any other country, opining that this is a practice worth continuing. He said that the economic cooperation is excellent, as is the cooperation in the spheres of culture, education and employment. Bakovic said that Slovenia understands Serbia' s situation as regards Kosovo-Metohija, that it is important to continue the talks, which depends on both sides, and that he believes that the imposition of customs tariffs on goods from Serbian and Bosnia and Herzegovina and establishment of security forces are not helping the dialogue that might lead to a solution. Bakovic opined that Slovenia has gained a lot by joining the EU and would like to share its experience with Serbia, adding that it hopes that EU enlargement would soon follow.
The meeting, also attended by the members of the Slovenian PFG with Serbia Lidija Divjak Mirnik and Dr Franc Trcek and members of the Foreign Affairs Committee and the European Integration Committee Gordana Comic, Dubravka Filipovski, Dragan Sormaz and Prof. Dr Ljubisa Stojmirovic, also touched on the problems the EU is facing, use of EU funds for infrastructure projects, advancing economic and infrastructure cooperation between the two countries, EU enlargement and its funding, refugee and migrant policy, finding a compromise solution to the Kosovo issue, etc.


---
---
wednesday, 25 may
No announcements for selected date