National Assembly of the Republic of Serbia / Activities / Activity details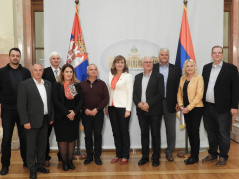 8 October 2019 The members of the Foreign Affairs Committee and the Bundestag delegation
Tuesday, 8 October 2019
Foreign Affairs Committee Members Receive Bundestag Delegation
The Deputy Chairperson of the Foreign Affairs Committee Dubravka Filipovski and Committee members Ljiljana Malusic, Dusica Stojkovic and Nemanja Radojevic received the members of the German Bundestag Subcommittee on Civilian Crisis Prevention, Conflict Management and Integrated Action at the National Assembly.
---
Dubravka Filipovski said that each meeting with fellow parliamentarians from the Bundestag creates new opportunities to deepen cooperation and bilateral relations between the two countries. She praised the Serbia-Germany relations and dialogue with its open exchange of opinions at the highest level. She also made sure to mention that 55,000 Serbian nationals work in German companies operating in the country.
Speaking of Serbia's foreign policy priorities, the Deputy Chairperson highlighted EU accession and the accompanying comprehensive reform, adding that the country has so far opened 17 of 35 negotiation chapters, two of which are temporarily closed. In view of the current situation in the EU, Filipovski opined that it would be good if the processes of European integration of the Western Balkans and internal reform in the EU ran parallel.
Serbia is focused on maintaining regional stability and good-neighbourly relations, Filipovski said, adding that Germany offers considerable support to the cooperation between the Western Balkan states through the Berlin Process it initiated.
The Chairman of the Subcommittee on Civilian Crisis Prevention, Conflict Management and Integrated Action operating within the Bundestag Committee on Foreign Affairs, Ottmar von Holtz, briefed the MPs on the Subcommittee's scope of activity, stressing its interest in the developments in the Western Balkans, especially the Belgrade-Pristina dialogue.
Speaking of the situation in Kosovo-Metohija, Filipovski said that it is vital to come to a mutually acceptable sustainable solution through dialogue and compromise in line with international law. The members of the Foreign Affairs Committee said that, unlike Pristina, Serbia has met its obligations from the Berlin Agreement and they hope that Germany and the other countries would understand Belgrade's position.
The officials agreed that it is crucial to continue the dialogue between Belgrade and Pristina and resolve the frozen conflict.
The German parliamentarians said it is very important to keep up the Western Balkans' European prospects because the vision is to have all the countries in the region join the EU some day, which will erase the conflicts between them.


---
---
tuesday, 18 january
14.00 - the National Assembly Speaker meets with OSCE Parliamentary Assembly Secretary General (National Assembly House, 13 Nikola Pasic Square, diplomatic salon of Prince Pavle)