National Assembly of the Republic of Serbia / Activities / Activity details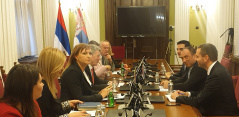 4 March 2020 The members of the Foreign Affairs Committee in meeting with the delegation of the Committee on European Integration and Regional Cooperation of the National Assembly of the Republic of Srpska
Wednesday, 4 March 2020
Foreign Affairs Committee Meets with Republic of Srpska European Integration and Regional Cooperation Committee Delegation
The Chairman of the Foreign Affairs Committee Prof. Dr Zarko Obradovic received the delegation of the Committee on European Integration and Regional Cooperation of the National Assembly of the Republic of Srpska headed by Committee Chairman Igor Crnadak at the National Assembly House.
---
Obradovic said that the relations between the Republic of Serbia and the Republic of Srpska are at a very high level as evidenced by the many reciprocal visits of high parliamentary dignitaries that give the relationship extra momentum. According to him, advocating common positions in international organizations and especially the reciprocal support in the Council of Europe are greatly beneficial for both sides.
Zarko Obradovic went on to brief the guests on Serbia's foreign policy goals, stressing that the country's key strategic goal is full EU membership and good relations with the countries in the region, as well as with the great powers of China, Russia and the US. He added that Serbia also advocated having a good relationship with the member countries of the Non-Aligned Movement.
Obradovic praised the success of the Serbian President and Minister of Foreign Affairs on the state project – withdrawal of recognition of the independence of Kosovo, stressing that 18 states had recently withdrawn the recognition and of the 193 UN member states, 92 recognize independent Kosovo, while 96 do not.
In the course of the meeting Obradovic also spoke about the excellent economic cooperation, adding that there is room to further educational and cultural cooperation.
Committee Chairman Igor Crnadak praised the excellent interparliamentary cooperation, assuring his hosts that future reciprocal visits would only improve and advance it. Serbia's foreign policy has made some significant steps forward especially in the relations with the region, European Union and great powers. He thanked Serbia for its political understanding and economic and financial support evidenced in the realization of many infrastructural projects. He also said that Serbia as one of the signatories of the Dayton Accords has been fulfilling all of its obligations under it and promoting the stabilization of not just Serbia and the Republic of Srpska, but the whole region.
The officials agreed that the parliamentary cooperation is at an admirable level and concluded that the two sides support one another in all important matters.
The meeting was also attended by Foreign Affairs Committee members Dubravka Filipovski, Dusica Stojkovic and Nikola Savic.


---
---
wednesday, 1 december
12.30 - sitting of the Committee on Finance, State Budget and Control of Public Spending (National Assembly House, 13 Nikola Pasic Square, hall 2)