National Assembly of the Republic of Serbia / Activities / Activity details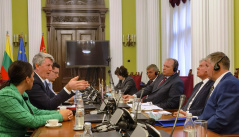 8 September 2021 The Chairman and membes of the Foreign Affairs Committee in meeting with the Lithuanian parliamentary delegation
Wednesday, 8 September 2021
Foreign Affairs Committee Chairman and Members Meet with Lithuanian Parliamentary Delegation
The Chairman and members of the Foreign Affairs Committee met with the delegation of the Lithuanian Parliament's Group for Inter-Parliamentary Relations with the Western Balkan Countries, today at the National Assembly House.
---
Welcoming the Lithuanian parliamentary delegation, Committee Chairman Prof. Dr Zarko Obradovic stressed that EU accession is one of Serbia's chief foreign policy goals.
"In terms of geography, values, culture and history, Serbia is part of Europe and it would be logical for it to be a part of the European Union," opined Obradovic. Informing his guests that Serbia has opened a large number of negotiation chapters, he added that the negotiation process is not going as fast as we want it to. The reason the process has slowed down is not up to Serbia's administration or capacities, but the stalemate in the dialogue with Pristina which has not fulfilled the provision of the 2013 Brussels Agreement concerning the establishment of the Community of Serb Municipalities in Kosovo-Metohija.
He also pointed out that in the last 10 years, thanks to its leadership, Serbia has conducted considerable economic reforms and, according to many parameters, taken the leading place not only in the Balkans, but among European countries as well.
Prof. Dr Zarko Obradovic said that Serbia wants to have a good relationship with all EU countries, as well as the US, China and Russia, as evidenced by the fact that during the coronavirus pandemic, Serbia was the only country in Europe to have four types of vaccines available to its citizens.
Obradovic stressed that Serbia is committed to having good relations with the countries of the Western Balkans by nurturing cooperation and good neighbourly policy.
Speaking of the relations between Serbia and Lithuania, Obradovic said that the cooperation between the two countries should be even better, more intensive, as well as further improved in international organisations.
Audronius Azubalis, member of the delegation and deputy head of the Group for Inter-Parliamentary Relations with the Western Balkan Countries, informed the hosts about his country's foreign policy and asked about Serbia's relations with Russia and the People's Republic of China.
Audronius Azubalis opined that Serbia is the politically and economically strongest country in the Balkans, adding that the Lithuanian leadership is committed to advocate its membership in the European Union.
The meeting was attended by Foreign Affairs Committee members Ana Pesic and Luka Kebara, as well as Lithuanian Ambassador Vytautas Pinkus and other members of the delegation.
---
---
saturday, 16 october
No announcements for selected date