National Assembly of the Republic of Serbia / Activities / Activity details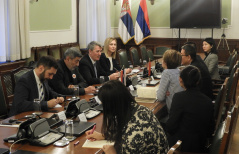 20 November 2019 The MPs with the delegation of the Chinese Ministry of Commerce
Wednesday, 20 November 2019
Foreign Affairs Committee Chairman and Head of PFG with China Receives Delegation of Chinese Ministry of Commerce
The Chairman of the Foreign Affairs Committee and Head of the PFG with China Prof. Dr Zarko Obradovic received a delegation of the Chinese Ministry of Commerce to discuss the relations between Serbia and China.
---
Obradovic said that with its 105 members the PFG with China is the second largest at the National Assembly. He emphasized the importance of the Memorandum of Understanding between the National Assembly of the Republic of Serbia and the National People's Congress of the People's Republic of China and the Cooperation Commission which has so far had two very successful meetings and raised the parliamentary relations to an even higher level.
The Head of the PFG with China Prof. Dr Zarko Obradovic spoke about the recent study visit to China in the course of which the MPs had the opportunity to visit a number of Chinese companies which have a good business relationship with Serbia.
"The visit was very successful thanks to the excellent lectures, good teachers, interesting topics and lively interaction. Seminars of this kind enable the MPs to become competent in China-related topics and Serbia-China relations", said Obradovic.
Member of the PFG with China Aleksandra Maletic said that, in the course of the visit, the MPs learned more about China's economic development, tradition and culture, adding that, despite the geographical distance, the Serbian and Chinese people share friendly ties and mutual understanding.
Prof. Dr Ljubisa Stojmirovic opined that China chiefly owes its speedy progress and development to its people's readiness to learn from everyone and at any time, as well as its willingness to put the interests of the state before personal interests.
The Chinese delegation agreed that the relations between the two countries are at a very high level and that visits of this kind yield positive results. The officials opined that there is room to advance relations in great many areas, mentioning the cooperation between Serbian and Chinese universities and their student exchange as a shining example.


---
---
tuesday, 18 january
14.00 - the National Assembly Speaker meets with OSCE Parliamentary Assembly Secretary General (National Assembly House, 13 Nikola Pasic Square, diplomatic salon of Prince Pavle)