National Assembly of the Republic of Serbia / Activities / Activity details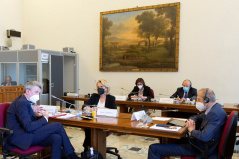 16 July 2021 The participants of the meeting
Friday, 16 July 2021
Foreign Affairs Committee Chairman Zarko Obradovic at First Trilateral Meeting of Italy, Serbia and Albania Foreign Affairs Committee Chairmen in Rome
The Chairman of the Foreign Affairs Committee of the National Assembly of the Republic of Serbia Prof. Dr Zarko Obradovic took part in the first trilateral meeting of Italy, Serbia and Albania foreign affairs committee chairmen in Rome on 16 July 2021.
---
The meeting was hosted by the Chairman of the Committee on Foreign and European Affairs of the Italian Chamber of Deputies Piero Fassino and was also attended by the Chairperson of the Albanian Parliament's Foreign Affairs Committee Mimi Kodheli.
The participants of the meeting agreed that EU enlargement to include the Western Balkans is primarily the responsibility of the European institutions, however, every government in Europe carries the same responsibility knowing that the stability and security in the Balkans influences the stability and security of the entire European continent. This objective also includes the responsibility of the national parliaments which, as a response to the European Parliament's constant demands, are called upon to endorse and follow the European integration process.
"We appeal to our fellow committee chairpersons to encourage all relevant initiatives conducive to speeding up the enlargement process to incorporate the Western Balkans as a decisive move to complete the grand project we have been striving to achieve since 1989 – to unite Europe in the name of the values of peace, freedom, democracy, social equality, gender equality and human rights", says the statement adopted after the meeting.
---
Photo gallery
---
---