National Assembly of the Republic of Serbia / Activities / Activity details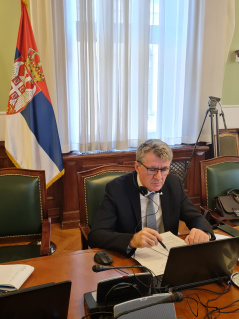 26 April 2021 Prof. Dr Zarko Obradovic at the parliamentary workshop "Western Balkans between multipolarism and the European integration process"
Monday, 26 April 2021
Foreign Affairs Committee Chairman Takes Part in Parliamentary Workshop on Western Balkans between Multipolarism and European Integration Process
On 26 April 2021, the Chairman of the National Assembly Foreign Affairs Committee Prof. Dr Zarko Obradovic took part in the parliamentary workshop "Western Balkans between multipolarism and the European integration process".
---
The parliamentary workshop, held via videoconference, was organized by the Committee on Foreign and European Affairs of the Italian Chamber of Deputies (Lower House of the Italian Parliament).
The workshop was moderated by Piero Fassino, Chairman of the Italian Chamber of Deputies' Committee on Foreign and European Affairs, and addressed by David Sassoli, President of the European Parliament, Roberto Fico, President of the Italian Chamber of Deputies, and Oliver Varhelyi, European Commissioner for Neighborhood and Enlargement.
At the beginning of his address, Foreign Affairs Committee Chairman Prof. Dr Zarko Obradovic protested that the representative of Pristina had displayed a flag as a state symbol, which was contrary to the rules of the gathering. In addition, Prof. Obradovic requested that in the text of the Declaration, Kosovo be marked with the footnote used in EU documents, which the organizers accepted.
The Foreign Affairs Committee Chairman said that the Republic of Serbia sees its future in the EU and full membership is one of its key strategic goals. He emphasized that in recent years, and especially during the COVID-19 pandemic, Serbia has shown that it has the administrative and other capacities to speed up the negotiation process with the EU. He informed the participants about the Serbia's results in the combat against the pandemic, in the field of health and economy. Serbia is among the leading countries in Europe and the world by the number of vaccinated and revaccinated citizens in relation to the total population. In the field of economy, in 2020 Serbia was at the very top in Europe in terms of economic growth, with a 6% growth planned for this year. He stressed that Serbia is committed to regional cooperation, as demonstrated by its assistance in medical equipment and vaccines to the countries in the region, and participation in a variety of regional initiatives.
He reaffirmed Serbia's interest in cooperation with all the countries in the world, because multipolarism does not contradict the process of European integration. "It is evident that there has been a decrease in enthusiasm among the citizens of the Western Balkans and EU members, contributed to by two factors. The first is the length of the European integration process, and the second is the EU's unwillingness to keep the issue of enlargement high on its agenda in the face of various challenges, such as the pandemic, migrant crisis and Brexit", Obradovic concluded.
The parliamentary workshop was attended by representatives of parliamentary foreign affairs committees from Albania, Austria, Bosnia and Herzegovina, Croatia, France, Greece, Montenegro, North Macedonia, Poland, Portugal, Romania, Slovenia, Slovakia and the UK.
---
---
friday, 1 july
11.00 - the National Assembly Speaker addresses the conference on the Position of Serbia's in the Euro-Atlantic Community (National Assembly Building, 14 Kralja Milana Street, Grand Hall)