National Assembly of the Republic of Serbia / Activities / Activity details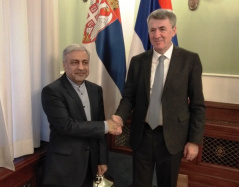 26 December 2019 The Chairman of the Foreign Affairs Committee and the Ambassador of the Islamic Republic of Iran to Serbia
Thursday, 26 December 2019
Foreign Affairs Committee Chairman Receives Iranian Ambassador to Serbia in Farewell Visit
The Chairman of the Foreign Affairs Committee Prof. Dr Zarko Obradovic received the Ambassador of the Islamic Republic of Iran to Serbia Hossein Molla Abdollahi in farewell visit today.
---
Ambassador Abdollahi thanked Chairman Obradovic for the open approach that made the excellent parliamentary cooperation between the two countries possible. He opined that the close ties fostered in the process enabled the advancement of cooperation between the two parliaments' working bodies.
The Chairman of the Foreign Affairs Committee Prof. Dr Zarko Obradovic opined that the recent advancement of cooperation between states resulting from the parliamentary cooperation is an excellent example of how to improve cooperation of this kind. He added that he was pleased by the meetings with Iranian colleagues, especially the Islamic Consultative Assembly Speaker Larijani in the course of the 141st IPU Assembly held in Belgrade in October this year.
"The international scene is changing rapidly and the shift in global powers will make it possible for Iran and Serbia to be heard and take steps toward cooperation and peace in the world", said Obradovic.
They agreed that the abolition of visas and establishment of a direct flight, after 28 years, were an important step toward advancing cooperation and strengthening ties between the two nations. The volume trade between the two countries was increased 2.5 times, despite the sanctions, defence cooperation made considerable progress and Iran continues to support Serbia's territorial integrity and sovereignty of Serbia and its side in international organizations.
The officials agreed that the previous period created new opportunities for the further cooperation between Serbia and Iran.


---
---
monday, 23 may
No announcements for selected date