National Assembly of the Republic of Serbia / Activities / Activity details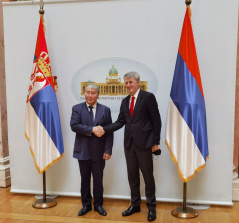 9 December 2021 The Chairman of the Foreign Affairs Committee Prof. Dr Zarko Obradovic and the Deputy Speaker of the Assembly of the Republic of Yakutia of the Russian Federation Aleksandr Nikolaevich Zhirkov
Thursday, 9 December 2021
Foreign Affairs Committee Chairman Prof. Dr Zarko Obradovic Meets with Yakutia Assembly Deputy Speaker
The Chairman of the Foreign Affairs Committee Prof. Dr Zarko Obradovic met today with the Deputy Speaker of the Assembly of the Republic of Yakutia of the Russian Federation Aleksandr Nikolaevich Zhirkov.
---
Deputy Speaker Zhirkov informed the Foreign Affairs Committee Chairman about the control, legislative and representative power of the Assembly, adding that next year the Republic will mark the 100th anniversary of its existence. He said that the territorially large Republic has less than a million inhabitants, which are, in addition to the Yakuts which make up 60% of the population, members of 130 different national minorities.

Zarko Obradovic welcomed the Deputy Speaker of the Assembly of the Republic of Yakutia of the Russian Federation, stressing that the two countries have excellent diplomatic relations, dating back for over 180 years. He added that relations are at a historic high thanks to friendly relations between Serbian President Aleksandar Vucic and Russian President Vladimir Putin, as well as between Serbian National Assembly Speaker and former Foreign Minister Ivica Dacic and Russian Foreign Minister Sergey Lavrov. He emphasised the special relations between the two parliaments and the Russian State Duma-Serbian National Assembly Cooperation Commission which meets annually. He went on to add that the Parliamentary Friendship Group with Russia with its 141 members is the largest group in the National Assembly, which is a clear sign of the commitment to cooperation and friendly relations. He opined that the cooperation is visible in the field of health and medicine, saying that it is a matter of days when Serbia will start distributing the Russian vaccine against the coronavirus. Obradovic thanked Russia for supporting Serbia's effort to resolve the Kosovo issue in all international organisations, especially in the United Nations Security Council.

The officials then focused on the cooperation in the field of education and culture and the exchange of teaching staff and students. They also talked about signing a Cooperation Agreement which would contribute to the further strengthening of ties. Zhirkov wished Obradovic good luck in the upcoming parliamentary elections in Serbia and also invited Mr. Obradovic and a delegation of the National Assembly of the Republic of Serbia to visit Yakutia on its 100th anniversary of their existence.



---
---
monday, 23 may
No announcements for selected date