National Assembly of the Republic of Serbia / Activities / Activity details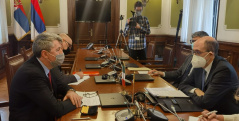 30 March 2021. Foreign Affairs Committee Chairman Prof. Dr Zarko Obradovic in meeting with Italian Ambassador Carlo Lo Cascio
Tuesday, 30 March 2021
Foreign Affairs Committee Chairman Prof. Dr Zarko Obradovic Meets with Italian Ambassador Carlo Lo Cascio
The Chairman of the Foreign Affairs Committee Prof. Dr Zarko Obradovic met today at the National Assembly House with Italian Ambassador Carlo Lo Cascio to discuss the current situation as regards the corona virus pandemic and the overall relations between the two countries.
---
At the beginning of the meeting, the Italian Ambassador in Belgrade briefed Prof. Dr Zarko Obradovic on the epidemiological situation in his country, expressing hope that vaccination would stabilise the situation in Italy.
He stressed that Italy is a great advocate of Serbia's entry into the European Union is ready to continue supporting Serbia on its European path.
Ambassador Lo Cascio presented Prof. Dr Obradovic with an invitation for the online conference entitled "Western Balkans between Multipolarism and European Integration", scheduled for 26 April 2021, which Prof. Dr Zarko Obradovic was glad to accept.
Prof. Dr Obradovic said that Italy is one of Serbia's most important partners and a country that strongly supports us on the path to European integration. He went on to add that there are no disputed issues between our two countries, except for the different interpretation and views on the issue of Kosovo. Speaking of Serbia's European path, he pointed out that the country is successfully implementing reforms, but Negotiating Chapter 35, which refers to the normalisation of relations with Kosovo, is problematic. In that regard, he mentioned the fact that Pristina has not implemented the provisions of the Brussels Agreement, primarily the part referring to the establishment of the Community of Serb Municipalities.
The Italian Ambassador praised the Serbian leadership for the excellent conduct of vaccination, opining that Serbia is a factor of stability in the region, as evidenced by the fact that Serbia has opened the door to the citizens of the neighbouring countries to come and be vaccinated. The news of this echoed across as the best confirmation of Serbia's capacities, said the Ambassador.
Carlo Lo Cascio also thanked Serbia for the generous donation of medical equipment to Italy, adding that in return, Italy sent a team of doctors to help the healthcare system of Serbia at the most difficult point.
At the end of the meeting, the officials concluded that mutual parliamentary visits and exchange of experiences between parliamentarians could improve and intensify the already good existing relations.
---
---
friday, 1 july
11.00 - the National Assembly Speaker addresses the conference on the Position of Serbia's in the Euro-Atlantic Community (National Assembly Building, 14 Kralja Milana Street, Grand Hall)