National Assembly of the Republic of Serbia / Activities / Activity details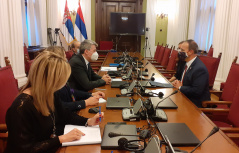 2 December 2020. The Chairman of the Committee on Foreign Affairs Prof. Dr Zarko Obradovic in meeting with the US Ambassador to Serbia Anthony Godfrey
Wednesday, 2 December 2020
Foreign Affairs Committee Chairman Meets with US Ambassador to Serbia
The Chairman of the Foreign Affairs Committee Prof. Dr Zarko Obradovic met with the Ambassador of the United States of America to the Republic of Serbia Anthony Godfrey to discuss the intensification of relations between America and Serbia.
---
Chairman Obradovic welcomed the Ambassador on behalf of the National Assembly and on his own behalf, pointing out that relations between the two countries are on the rise and cooperation was improving. He added that it is extremely important for Serbia to have and partner and friend in the United States, which is also the country's state interest.
In the talk with the Ambassador, Prof. Dr Zarko Obradovic emphasised the importance of the Washington Agreement signed in September this year, the implementation of which contributes to regional and economic cooperation, as well as the dialogue between Belgrade and Pristina.
Ambassador Anthony Godfrey said that the change of the American administration would not affect the implementation of the Washington Agreement and he expects that the agreements related to the cooperation between Serbia and the US, primarily the Science and Technology Agreement and Investment Promotion Agreement, would soon be put into the parliamentary procedure and ratified by the National Assembly.
Ambassador Anthony Godfrey said that Serbia's membership in the European Union is in the interest of the United States, which would further contribute to stability in the region, as well as prosperity and economic growth. He pointed out that, as before, the United States would continue to support to Serbia's EU accession efforts.
---
---
thursday, 18 august
No announcements for selected date