National Assembly of the Republic of Serbia / Activities / Activity details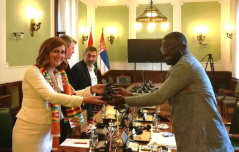 4 October 2019 The Chairman of the Foreign Affairs Committee Prof. Dr Zarko Obradovic and the Ghanaian parliamentary delegation
Friday, 4 October 2019
Foreign Affairs Committee Chairman Meets with Ghanaian Parliamentary Delegation
The Chairman of the Foreign Affairs Committee Prof. Dr Zarko Obradovic met at the National Assembly with the delegation of the Foreign Affairs Committee of the Parliament of Ghana visiting Serbia.
---
Prof. Dr Zarko Obradovic said he was very pleased that the parliaments are at the forefront of the further development of the traditionally good relations between Serbia and Ghana, dating back to the times of the Non-Aligned Movement.
The Chairman of the Foreign Affairs Committee said that EU accession is Serbia's foreign policy priority, as is maintaining good relations with big global powers such as the Russian Federation, People's Republic of China and the US, promoting Foreign Affairs Committee neighbourly relations and advancing the relations with all the countries of the Non-Aligned Movement.
Prof. Dr Obradovic thanked Ghana for understanding Serbia's position in the Kosovo-Metohija issue stating that it is very important that friendly countries abstain from voting on so-called Kosovo's bids to join international organizations. That is a sign of support for the Belgrade-Pristina dialogue and finding a peaceful mutually acceptable compromise, said Obradovic, adding that 15 states had withdrawn their recognition of the independence of so-called Kosovo which proves that dialogue is the solution.
The Chairperson of the Ghanaian Foreign Affairs Committee Frank Annoh-Dompreh said that past mistakes would not be repeated and that Serbia can count on Ghana's friendly support. There is an interest to deepen cooperation between the Ghanaian and Serbian foreign affairs committees through an exchange of experiences.
The officials also discussed the potential for advancing economic and agricultural cooperation.

The meeting with the Ghanaian parliamentary delegation was also attended by Foreign Affairs Committee members Dubravka Filipovski and Prof. Dr Ljubisa Stojmirovic.


---
---
sunday, 4 december
10.00 - sitting of the Committee on Education, Science, Technological Development and the Information Society (National Assembly House, 13 Nikola Pasic Square, hall 3)

12.00 - sitting of the Committee on Finance, State Budget and Control of Public Spending (National Assembly House, 13 Nikola Pasic Square, Small Hall)