National Assembly of the Republic of Serbia / Activities / Activity details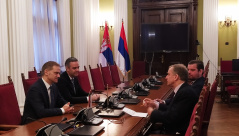 30 January 2023 The Chairman of the Foreign Affairs Committee and the Dutch Ambassador to Serbia
Monday, 30 January 2023
Foreign Affairs Committee Chairman Meets with Dutch Ambassador to Serbia
The Chairman of the Foreign Affairs Committee Borko Stefanovic met today at the National Assembly House with the Ambassador of the Netherlands to the Republic of Serbia Joost Reintjes to discuss the current political situation in Serbia in Europe, as well as the prospects of Serbia's European integration.
---
The officials exchanged opinions on the crisis in Europe caused by the war in Ukraine, as well as on the importance of aligning Serbia's foreign policy with that of the EU. Ambassador Reintjes was interested in the Resolution Proposal on aligning the foreign policy of the Republic of Serbia with the foreign policy of the European Union in the form of restrictive measures towards the Russian Federation, submitted by Borko Stefanovic.
Stefanovic pointed out that the proposed Resolution has not yet been discussed by the Committee or at a National Assembly session, because the National Assembly has not received the Opinion, which the Ministry of Foreign Affairs had forwarded to the Government of Serbia. He expressed the expectation that all needed procedural conditions would be met for this Resolution Proposal to be considered by the National Assembly in the near future, because it is a current topic which cannot be avoided and which largely determines Serbia's position to fight for its interests in the Kosovo-Metohija issue. If we are isolated from Europe, we cannot defend our interests, stressed Borko Stefanovic.
Stefanovic and Reintjes also discussed the continuation of the dialogue between Belgrade and Pristina, and the "French-German" plan proposed for the normalisation of relations, which will be discussed at the National Assembly session in the coming days, also to be attended by the President of the Republic.
The Foreign Affairs Committee Chairman stressed that the Serbian public does not have access to the text of the proposed document and that he would insist at the National Assembly session that they familiarise themselves with the proposal, so that it can be properly discussed. He emphasised that the issue of Kosovo-Metohija and the future of Serbia must not be the subject of any party fights, that it is an issue of national importance and therefore it is very important to maintain a constructive approach, because one should stand in opposition to the ruling party, not to Serbia.
Borko Stefanovic underlined that in these circumstances, it is extremely important that the EU send concrete positive signals to Serbia, to make sure its European perspective is not neglected.
---
---
wednesday, 22 march
10.00 - National Assembly Deputy Speaker Elvira Kovacs meets with Hungarian Ambassador to Serbia Jozsef Magyar (National Assembly House, 13 Nikola Pasic Square, hall 3)

12.00 - sitting of the Foreign Affairs Committee (National Assembly House, 13 Nikola Pasic Square, hall 3)