National Assembly of the Republic of Serbia / Activities / Activity details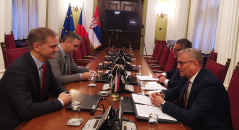 5 December 2022 The Chairman of the Foreign Affairs Committee in meeting with the Deputy Minister of Foreign Affairs of the Czech Republic
Monday, 5 December 2022
Foreign Affairs Committee Chairman Meets with Czech Deputy Foreign Minister
The Chairman of the Foreign Affairs Committee Borko Stefanovic met today at the National Assembly with the Deputy Minister of Foreign Affairs of the Czech Republic Martin Dvořák to discuss Serbia and the Western Balkans' European prospects.
---
Borko Stefanovic said that the Czech Republic is a friendly country and thanked it for its support of Serbia's European integration. "We belong in Europe and our future is in the European Union," stressed Stefanovic, adding that it is vital for the EU itself to send a positive signal to Serbia, as there have been no concrete positive developments in the integration since 2009, which has led to a decline it support by the citizens who see the EU through s veil of constant conditioning.
Stefanovic added that, as the Chairman of the Foreign Affairs Committee, he had submitted to the National Assembly a Resolution Proposal on harmonising the foreign policy of the Republic of Serbia with the foreign policy of the European Union in the form of restrictive measures towards the Russian Federation, so that our country could align its foreign policy with European.
He stressed that it is important for Serbia to take the correct position in these circumstances, one which is in our national, economic and political interest. Otherwise, Belgrade's position on the issue of Kosovo-Metohija will weaken, Stefanovic pointed out, adding that Belgrade is committed to dialogue and finding a compromise solution with Pristina in order to normalise relations, but that it will never recognise the independence, nor membership of so-called Kosovo in the UN.
The Deputy Minister of Foreign Affairs of the Czech Republic Martin Dvořák agreed that our two countries have historically good relations, adding that he is aware that the issue of Kosovo is the most important issue for Serbia. He emphasised that, despite the difficult circumstances, a way should be found to remedy the situation and reach a compromise, in order to normalise relations between Belgrade and Pristina.
Dvořák also said that the events in Ukraine can greatly affect the Western Balkans, which is very important for Europe. The officials agreed that regional cooperation is of great importance and that regional initiatives, such as the Open Balkans, have a positive impact on the European perspectives of the entire region.
In the course of the meeting, Stefanovic and Dvořák jointly assessed that bilateral relations between Serbia and the Czech Republic could be further improved by intensifying interparliamentary cooperation, through the exchange of visits by parliamentary delegations.
---
---
monday, 6 february
14.00 - the Chairperson and the Deputy Chairman of the Committee on the Diaspora and Serbs in the Region meet with the President of the Association of Serbs from Bosanska Krajina in the Federation of Bosnia and Herzegovina (National Assembly House, 13 Nikola Pasic Square, hall 2)

14.00 - the PFG with Azerbaijan meet with the Azerbaijani Ambassador to Serbia (National Assembly House, 13 Nikola Pasic Square, hall 4)

18.00 - sitting of the Committee on Constitutional and Legislative Issues (National Assembly House, 13 Nikola Pasic Square, hall 3)

20.30 - sitting of the Committee on the Judiciary, Public Administration and Local Self-Government (National Assembly House, 13 Nikola Pasic Square, hall 2)