National Assembly of the Republic of Serbia / Activities / Activity details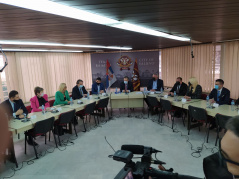 16 February 2021 18th meeting of the National Assembly Collegium
Tuesday, 16 February 2021
First Assembly Collegium Outside National Assembly Seat, in Valjevo
The National Assembly of the Republic of Serbia held its first Collegium meeting organized outside the seat of the Republic Parliament, in Valjevo today. The meetings of the Assembly Collegium are held every Tuesday, and at the suggestion of the head of the Aleksandar Vucic - For Our Children Parliamentary Group Dr Aleksandar Martinovic, today's meeting was in Valjevo.
---
After the Collegium meeting, the representatives of the Parliament spoke with the head of the district, Mayor of Valjevo and the presidents of the municipalities. At the press conference after the Collegium meeting, the Speaker of the Serbian Assembly Ivica Dacic said that they discussed topics of importance for citizens, such as the reconstruction of Valjevo Hospital, air pollution, regional waste, roads and changes to the Law on Natural Resources Exploitation.
"We talked about changing the Law on the Use of Resources, because according to Law in force, all the compensation for the use of resources (in the case of Valjevo water) goes to the Republic and is not returned to the municipality," said Dacic.
He stated that it probably dates back to the time of Mladjan Dinkic, who transferred everything to the republic level, and that he would discuss that topic with the representatives of the Government of Serbia.
When asked by journalists why Valjevo and what would be the benefits to the citizens from it, Dacic said that he would forward the problems and proposals of the people of Valjevo voiced today, to the competent authorities.
"We are not replacing the government, nor the executive authorities, but the more often the existence of a problem is acknowledged and solution to it sought, the sooner would it be obtained", he said.
He added that it is the parliamentary representatives' wish to be in as much contact with the people who elected them as possible, so the participants would not receive compensation for today's Collegium, but bear the travel costs themselves.
"The wish here is to make sure that the Assembly of Serbia is not only in Belgrade," said the Speaker of the National Assembly of the Republic of Serbia Ivica Dacic.
---
Photo gallery
---
---
sunday, 26 june
No announcements for selected date