National Assembly of the Republic of Serbia / Activities / Activity details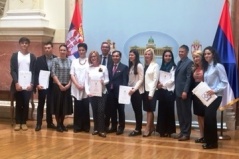 12 May 2017 Opening of the handicraft exhibition "100 Women – 100 Miniatures"
Friday, 12 May 2017
Fifth Traditional Handicraft Exhibition "100 Women – 100 Miniatures" Opened
National Assembly Deputy Speaker Prof. Dr Vladimir Marinkovic opened the exhibition of the best handicrafts of Serbia "100 women – 100 miniatures" at the National Assembly House.
---
Prof. Dr Vladimir Marinkovic said he was honoured to be opening the exhibition as it offers a unique opportunity to see handicrafts and the different traditional crafting techniques cultivated over the decades. He said it is important to empower all who want to take up handicrafts, to create new job opportunities and reduce the exodus from rural Serbia.

Prof. Dr Vladimir Marinkovic commended the NGO's support to the Ethno Network and urged other state institutions to follow the National Assembly's example and contribute to the development and promotion of handicraft.

The attending were also greeted by the President of Ethno Network and NALED executive Violeta Jovanovic, First Secretary of the Embassy of Australia Glenn Morrison and Frederic Aubet, General Manager of CRH Serbia.

After the opening address, the authors of the best miniatures were presented awards and special recognitions.

The exhibition "100 Women – 100 Miniatures" will be opened until 19 May 2017.


---
---
thursday, 28 january
10.00 - continuation of the First Extraordinary Session of the National Assembly of the Republic of Serbia, 12th Legislature (National Assembly House, 13 Nikola Pasic Square)

10.00 - presentation of the poll on: Serbian citizens' attitude toward the US (National Assembly House, 13 Nikola Pasic Square, Small Hall)

10.30 - National Assembly Speaker Ivica Dacic addresses the gathering on the 140th anniversary of Serbia – US diplomatic relations (National Assembly House, 13 Nikola Pasic Square, Small Hall)

12.00 - sitting of the Committee on Administrative, Budgetary, Mandate and Immunity Issues (National Assembly House, 13 Nikola Pasic Square, hall 4)

12.00 - sitting of the Committee on Constitutional and Legislative Issues (National Assembly House, 13 Nikola Pasic Square, hall 3)

13.45 - 12th meeting of the EU - Serbia Stabilisation and Association Parliamentary Committee (SAPC) (National Assembly House, 13 Nikola Pasic Square, hall 3)

16.00 - institute of parliamentary questions on the last Thursday of the month (National Assembly House, 13 Nikola Pasic Square)