National Assembly of the Republic of Serbia / Activities / Activity details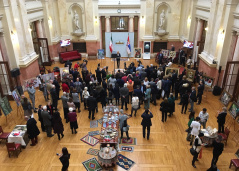 3 December 2018 Opening of exhibition "Iranian Art and Crafts"
Monday, 3 December 2018
Exhibition "Iranian Art and Crafts"
"Iranian art occupies a special place in the world heritage earned by its originality, beauty and millennium-old tradition and Serbia knows how to understand and appreciate beauty because weaving, especially of carpets, is a craft shared by our people with its respect for the home, family and hearth", were the words with which the Head of the Parliamentary Friendship Group with Iran Jasmina Karanac opened the exhibition "Iranian Art and Crafts".
---
She said she hoped the ties binding the two nations would be as strong as the knots on the magnificent Iranian carpets adding that the Parliamentary Friendship Group and she personally remain open to endorse any future initiative promoting friendship and cooperation between Serbia and Iran.
Iranian Ambassador to Serbia Hossein Molla Abdollahi was grateful for the opportunity to display Iranian art in the home of all Serbian citizens.
"The fact that the exhibition is hosted by the National Assembly House speaks volumes about the close ties and friendship between our two nations and our two parliaments", concluded the Ambassador.
At the exhibition, open until 7 December, the public will have the opportunity to see carpets, examples of Persian art, from the province of Isfahan.
---
---
thursday, 24 september
No announcements for selected date