National Assembly of the Republic of Serbia / Activities / Activity details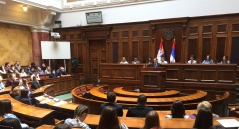 24 May 2017 European School of Debate at the National Assembly
Wednesday, 24 May 2017
European School of Debate
The National Assembly House hosted the European School of Debate to mark the 60th anniversary of the Treaties of Rome, signed in 1957, which established the European Economic Community and European Atomic Energy Community, the precursors of the European Union.
---
Organized by EU Info Centre, the European School of Debate has been attended by 150 high school students in 23 Serbian cities, and, at the National Assembly, the attending had the opportunity to watch a debate between the best seven of them. Following the debate in which the high schoolers showed extraordinary knowledge and targeted key topic concerning the further development of the European Union, the members of the jury comprising National Assembly Deputy Speaker Prof. Dr Vladimir Marinkovic, EU Info Centre Team Leader Ljubica Markovic and current world debating champion Teodora Resetar, ruled that the debaters who argued in favour of two-speed Europe were somewhat better than those who argued against.

Prof. Dr Vladimir Marinkovic said he was very happy to be on the jury of the European School of Debate for the fourth year running, adding that he expected most of the high schoolers who had attended it to become parliamentarians. He said that if he had to choose between two-speed Europe and focusing on equality of all the EU member and enlargement states, which was the topic of the debate, he would have to give it serious thought. He believes that we should focus on the fact that the European Union offers peace and stability and that the 70 years of togetherness should serve as an example to the entire world.

At the end of the debate, all the students who had attended the European School of Debate organized by EU Info Centre received certificates.


---
---
friday, 27 november
10.00 - National Assembly Speaker Ivica Dacic meets with the Ambassador of the United Kingdom of Great Britain and Northern Ireland to the Republic of Serbia Sian MacLeod (National Assembly House, 13 Nikola Pasic Square, diplomatic salon of Prince Pavle)