National Assembly of the Republic of Serbia / Activities / Activity details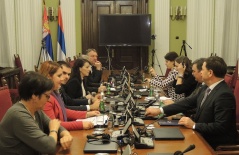 6 December 2016 The members of the European Integration Committee and the Moldovan delegation
Tuesday, 6 December 2016
European Integration Committee Members Meet with Moldovan Delegation
The Chairperson and members of the European Integration Committee met, at the National Assembly House, with a delegation of the Republic of Moldova and discussed the process European integration, interparliamentary and regional cooperation.
---
Committee Chairperson Marinika Tepic briefed the Moldovan delegation on the state-of-play in Serbia's European integration saying that she expected the opening of three new chapters – 5, 25 and 26, by the end of the year, adding she expected chapters 25 and 26 to be closed immediately after opening because these are chapters without any special EU acquis. Tepic said that chapters 23 and 24 are crucial for the integration process and that Chapter 35 is of particular importance for the Republic of Serbia as it, among other things, concerns the Berlin Process and the Belgrade-Pristina talks. The Committee Chairperson also spoke about the Committee's mode of operation, saying that it cooperates with the National Convention on the EU, an organisation comprising about 700 NGOs. She also added that, though the National Assembly has a great many parliamentary friendship groups, it does not have a PFG with Moldova, and since one way to promote closer cooperation is contact between the countries' parliamentarians, Tepic announced an initiative to set up a PFG with Moldova.

Daniela Morari, Deputy Minister of Foreign Affairs and European Integration of the Republic of Moldova, said that there is room to strengthen bilateral relations between the two countries and that the Republic of Moldova has a lot to learn from Serbia as regards the Euro-integration process. Morari said that Moldova is in the midst of talks on the Stabilisation and Accession Agreement making Serbia's experience with it invaluable. She also said that Moldova is tackling the challenge of how to bring the Euro-integration process closer to its citizens and is working on a communication strategy with the non-governmental sector.

The officials agreed that the cooperation initiatives should be concretised at the parliamentary and all other levels, and Morari announced that she will inform the Moldovan PFG with Serbia about the details of this meeting.


---
---
tuesday, 29 november
11.00 - sitting of the Committee on Finance, State Budget and Control of Public Spending (National Assembly House, 13 Nikola Pasic Square, hall 2)

11.00 - video meeting of the members of the National Assembly Foreign Affairs Committee and the Ukrainian Verkhovna Rada (National Assembly House, 13 Nikola Pasic Square, hall 4)

12.00 - press conference of MP MA Ivan Kostic (National Assembly House, 13 Nikola Pasic Square, Central Hall)

12.30 - the National Assembly Speaker meets with Cypriot Minister of Defence (National Assembly House, 13 Nikola Pasic Square, hall 1)