National Assembly of the Republic of Serbia / Activities / Activity details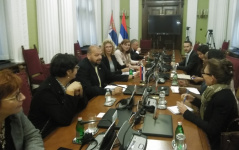 18 September 2019 The members of the European Integration Committee in meeting with the member of the French National Assembly
Wednesday, 18 September 2019
European Integration Committee Members Meet with French MP
The members of the European Integration Committee met today with a member of the French National Assembly Laetitia Avia to discuss Serbia's European integration process, current political issues and combating discrimination.
---
The officials opined that the relationship between the two countries is very good and the French President's recent visit to Serbia has both reaffirmed the friendship between Serbia and France and been a great step forward in advancing relations. The meeting of Serbian and French parliamentarians on the margins of the meeting between the presidents of Serbia and France showed how important the parliamentary dimension is for the relations between the two countries.
Following the introduction of the delegation of the European Integration Committee, Committee member Dragan Sormaz thanked the French MP for her country's support of Serbia's European path. He listed the positive examples that recommend Serbia for EU membership such as high minority standards for both ethnic and other minority groups in the country and Serbia's stance during the migrant crisis in the course of which over 1.2 million refugees crossed though the country.
Committee members Natasa Vuckovic, Gordana Comic, Dubravka Filipovski and Zvonimir Djokic also took part in the meeting which focused on advancing cooperation between Serbia and France in the fields of economy, business and culture, as well as parliamentary cooperation. They spoke about the efforts Serbia is investing in the preparations for EU accession and the accompanying challenges - development of democratic institutions, meeting democratic standards, the rule of law, media freedom, public political dialogue and the European Parliament's offer to mediate in the dialogue between the ruling majority and opposition in Serbia before the coming regular parliamentary elections. The officials exchanged opinions on the situation in the EU following the recent European Parliament elections and enlargement being an unpopular topic in the member states.
French National Assembly member Laetitia Avia, who is taking part in the conference on combating intolerance and promoting equality in Belgrade and the one who proposed the bill against hate speech online at the French National Assembly, praised Serbia's efforts to join the EU and combat social discrimination. She said that the EU is not an institution, but a forum of states that enter it with everything they have and the EU motto could be – united in diversity. The EU is not perfect, as demonstrated by the last European parliamentary elections it needs to be reformed, but it is also vital for preserving peace.
The members of the European Integration Committee reaffirmed that Serbia is committed to meeting the EU accession criteria and has the administrative capacities to do so, adding that EU enlargement and reform can run parallel and do not exclude one another. Because of the challenges that await us in the future, it is essential that Serbia and the countries in the region join the EU as soon as possible.


---
---
sunday, 29 may
No announcements for selected date