National Assembly of the Republic of Serbia / Activities / Activity details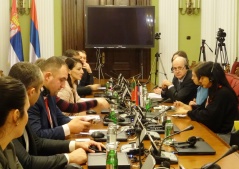 7 December 2016 The members of the European Integration Committee in meeting with the Secretary of State of the Portuguese Ministry of Foreign Affairs
Wednesday, 7 December 2016
European Integration Committee Meets with Portuguese Foreign Ministry Secretary of State
The members of the European Integration Committee met, at the National Assembly House, with Margarida Marques, Secretary of State of the Portuguese Ministry of Foreign Affairs, to discuss Serbia's EU accession and the Portuguese experiences of the process.
---
Committee Chairperson Marinika Tepic thanked the Secretary of State for the visit, saying that the Republic of Serbia, and especially its National Assembly, consider the member states' support and experience of the EU accession process invaluable. She stressed that the majority of National Assembly members support Serbia's path to Europe, which is crucial to the future of its citizens.

Tepic hopes to intensify cooperation with the Portugal's Parliamentary Committee on European Affairs and exchange experiences which will considerably contribute to the improvement of parliamentary cooperation at all levels. She stressed that Serbia is soon expected to open Chapter 5 – Public Procurement, and said she hopes chapters 25 and 26, so-called technical chapters, would soon be opened because they get closed soon after opening. She stressed that negotiations on chapters 23, 24 and 35 are extremely important for Serbia because they are crucial for the harmonisation of national legislation with the EU acquis and for the establishment of the rule of law.

Briefing the Secretary of State on the role the European Integration Committee plays in Serbia's EU accession process, Tepic said that it had recognised the importance of close cooperation with civil society organisations, which the Committee conducts within the National Convention on the European Union. Regional parliamentary cooperation is another of the Committee's priorities, one which it is working hard to advance.

The Committee members said that the Serbian Government expects to open all the negotiation chapters by 2018 and close them by 2020. They also hope that Portugal would extend full support to the opening of the chapters expected for the end of the year.

Affirming Portugal's support for Serbia's path to the EU, Secretary of State Marques said it is paramount for the institutions to be firmly committed to the establishment of the European system in the process which means the development of the state and society, economic empowerment, establishment of the rule of law and democracy. She commended the European Integration Committee's cooperation with the non-governmental sector, which means direct cooperation between the state and its citizens. She concluded that the coming visits of officials will improve the relations between Portugal and Serbia and help intensify parliamentary cooperation.


---
---
monday, 2 october
10.40 - the National Assembly Speaker's address at the event "Joy of Europe" (National Assembly House, 13 Nikola Pasic Square, Central Hall)

12.00 - continuation of the sitting of the Committee on the Economy, Regional Development, Trade, Tourism and Energy (National Assembly House, 13 Nikola Pasic Square, hall 2)

14.15 - the National Assembly Speaker meets with a delegation of rapporteurs of the Parliamentary Assembly of the Council of Europe Monitoring Committee (National Assembly House, 13 Nikola Pasic Square, hall 1)

16.00 - the heads of the parliamentary groups meet with the delegation of rapporteurs of the Parliamentary Assembly of the Council of Europe Monitoring Committee (National Assembly Building, 14 Kralja Milana Street, Blue Salon)

17.45 - the members of the Committee on Constitutional and Legislative Issues meet with the delegation of rapporteurs of the Parliamentary Assembly of the Council of Europe Monitoring Committee (National Assembly Building, 14 Kralja Milana Street, Blue Salon)