National Assembly of the Republic of Serbia / Activities / Activity details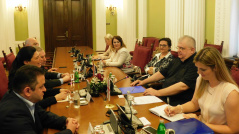 8 June 2018 The members of the European Integration Committee in meeting with the Georgian Parliament's Foreign Relations Committee
Friday, 8 June 2018
European Integration Committee Meets with Georgian Parliamentarians
The members of the European Integration Committee met today with a delegation of the Georgian Parliament's Foreign Relations Committee headed by Chairperson Sofio Katsarava.
---
European Integration Committee Chairman Nenad Canak informed the Georgian MPs about the Committee's scope and the role it plays in Serbia's EU accession process, as well as the challenges the country encounters on its path to the EU. He reaffirmed that the countries struggling to become EU members can help resolve the problems plaguing the organization.

Committee member Gordana Comic said that some of the challenges on Serbia's path to the EU were reaching a consensus on the Euro-integration, maintaining the territorial integrity of the country and advancing the rule of law. She said that Serbia and Georgia share a great deal of social and cultural similarities which can help improve cooperation to both sides' benefit.
Committee member Dusica Stojkovic said that Serbia and Georgia's friendly relations could be advanced, especially in view of the fact that Georgia had not recognized the unilaterally declared independence of Kosovo-Metohija and has a special relationship with the EU. She said that so far Serbia has opened 12 EU negotiation chapters and expects to open new ones in the coming six months. She also informed the Georgian delegation that the political parties in the National Assembly are for the most part in agreement on European integration and also urged for mutual support in international organizations.
The Chairperson of the Georgian Parliament's Foreign Relations Committee Sofio Katsarava said that Georgia has reached a consensus on European integration, but maintaining public motivation on the matter until the actual accession is a challenge.
The officials agreed that European enthusiasm cannot be maintained with promises alone and that the benefits of EU accession, social dialogue and acceptance of the rule of law should be made the focus of attention.


---
---
saturday, 4 december
No announcements for selected date